Hey Kid Lit friends,
A couple of months ago, Bridgit, a newsletter subscriber, sent me a note asking for book recommendations about art and artists for middle grade readers. Her eleven-year-old niece is an artist, and she wanted to find books that would encourage her. There are so many great books for young artists, so I was very happy to compile some of the books I've come across! I've divided them into the following categories: picture books (good for all ages!), biographies, technique books, middle grade fiction with art themes, and just-for-fun art books.
---
Sponsored by Houghton Mifflin Harcourt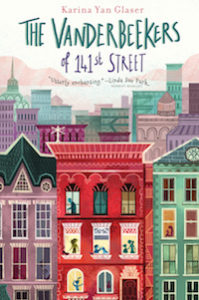 It's five days before Christmas, and the Vanderbeeker children should be dreaming about sugar plums and presents. But when their curmudgeonly landlord mysteriously refuses to renew their lease, the five siblings must find a way to change his mind before New Year's. But as every well-intentioned plan goes comically awry, their shenanigans only exasperate their landlord more. What the Vanderbeekers need now is a Christmas miracle.
Funny, heartfelt, and as lively as any street in Harlem, this modern classic in the making is about the connections we make and the unexpected turns life can take.
---
Picture Books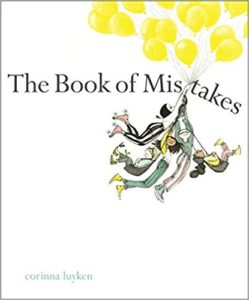 The Book of Mistakes by Corinna Luyken
As one artist incorporates accidental splotches, spots, and misshapen things into her art, she transforms her piece in quirky and unexpected ways, taking readers on a journey through her process. Told in minimal, playful text, this story shows readers that even the biggest "mistakes" can be the source of the brightest ideas—and that, at the end of the day, we are all works in progress, too.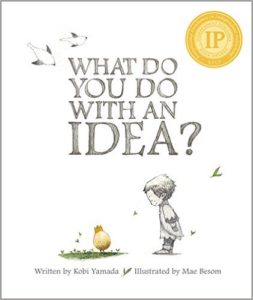 What Do You Do With An Idea by Kobi Yamada, illustrated by Mae Besom
This is the story of one brilliant idea and the child who helps to bring it into the world. As the child's confidence grows, so does the idea itself. And then, one day, something amazing happens. This is a story for anyone, at any age, who's ever had an idea that seemed a little too big, too odd, too difficult. It's a story to inspire you to welcome that idea, to give it some space to grow, and to see what happens next. Because your idea isn't going anywhere. In fact, it's just getting started.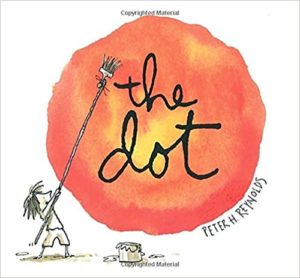 The Dot by Peter H. Reynolds
Art class is over, but Vashti is sitting glued to her chair in front of a blank piece of paper. The words of her teacher are a gentle invitation to express herself. But Vashti can't draw – she's no artist. To prove her point, Vashti jabs at a blank sheet of paper to make an unremarkable and angry mark. "There!" she says. That one little dot marks the beginning of Vashti's journey of surprise and self-discovery. That special moment is the core of Peter H. Reynolds's delicate fable about the creative spirit in all of us.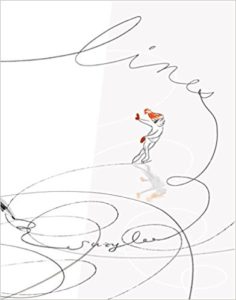 Lines by Suzy Lee
It starts with a line. Whether made by the tip of a pencil
or the blade of a skate, the magic starts there.
And magic once again flows from the pencil and imagination of internationally acclaimed artist Suzy Lee. With the lightest of touches, this masterwork blurs the lines between real and imagined.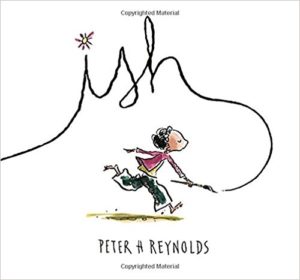 Ish by Peter Reynolds
Drawing is what Ramon does. It¹s what makes him happy. But in one split second, all that changes. A single reckless remark by Ramon's older brother, Leon, turns Ramon's carefree sketches into joyless struggles. Luckily for Ramon, though, his little sister, Marisol, sees the world differently. She opens his eyes to something a lot more valuable than getting things just "right." Combining the spareness of fable with the potency of parable, Peter Reynolds shines a bright beam of light on the need to kindle and tend our creative flames with care.
Biographies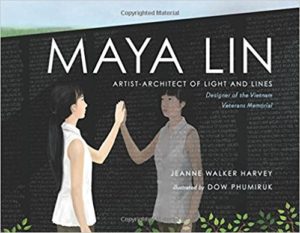 Maya Lin: Artist-Architect of Light and Lines by Jeanne Walker Harvey and Dow Phumiruk
As a child, Maya Lin loved to study the spaces around her. She explored the forest in her backyard, observing woodland creatures, and used her house as a model to build tiny towns out of paper and scraps. The daughter of a clay artist and a poet, Maya grew up with art and learned to think with her hands as well as her mind. From her first experiments with light and lines to the height of her success nationwide, this is the story of an inspiring American artist: the visionary artist-architect who designed the Vietnam Veterans Memorial.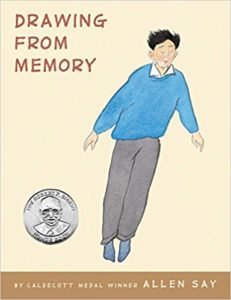 Drawing From Memory by Allen Say
This book is Allen Say's own story of his path to becoming the renowned artist he is today. Shunned by his father, who didn't understand his son's artistic leanings, Allen was embraced by Noro Shinpei, Japan's leading cartoonist and the man he came to love as his "spiritual father." As WWII raged, Allen was further inspired to consider questions of his own heritage and the motivations of those around him. He worked hard in rigorous drawing classes, studied, trained–and ultimately came to understand who he really is.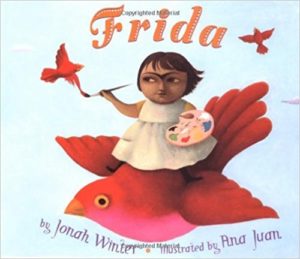 Frida by Jonah Winter, illustrated by Ana Juan
When her mother was worn out from caring for her five sisters, her father gave her lessons in brushwork and color. When polio kept her bedridden for nine months, drawing saved her from boredom. When a bus accident left her in unimaginable agony, her paintings expressed her pain and depression – and eventually, her joys and her loves. Over and over again, Frida Kahlo turned the challenges of her life into art. Now Jonah Winter and Ana Juan have drawn on both the art and the life to create a playful, insightful tribute to one of the twentieth century's most influential artists. Viva Frida!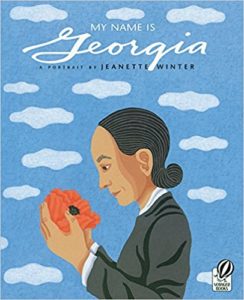 My Name is Georgia: A Portrait by Jeanette Winter
From the time she was just a young girl, Georgia O'Keeffe viewed the world in her own way. While other girls played with toys and braided their hair, Georgia practiced her drawing and let her hair fly free. As an adult, Georgia followed her love of art from the steel canyons of New York City to the vast plains of New Mexico. There she painted all day, and slept beneath the stars at night. Throughout her life Georgia O'Keeffe followed her dreams–and so found her way to become a great American artist.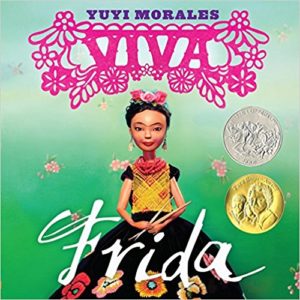 Viva Frida by Yuyi Morales
Frida Kahlo, one of the world's most famous and unusual artists is revered around the world. Her life was filled with laughter, love, and tragedy, all of which influenced what she painted on her canvases.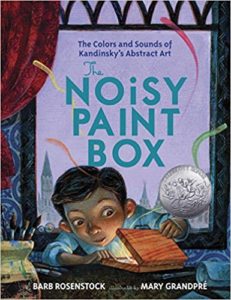 The Noisy Paint Box: The Colors and Sounds of Kandinsky's Abstract Art by Barb Rosenstock, illustrated by Mary GrandPre
Vasya Kandinsky was a proper little boy: he studied math and history, he practiced the piano, he sat up straight and was perfectly polite. And when his family sent him to art classes, they expected him to paint pretty houses and flowers—like a proper artist. But as Vasya opened his paint box and began mixing the reds, the yellows, the blues, he heard a strange sound—the swirling colors trilled like an orchestra tuning up for a symphony! And as he grew older, he continued to hear brilliant colors singing and see vibrant sounds dancing. But was Vasya brave enough to put aside his proper still lifes and portraits and paint . . . music?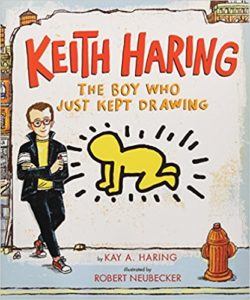 Keith Haring: The Boy Who Just Kept Drawing by Kay Haring, illustrated by Robert Neubecker
This one-of-a-kind book explores the life and art of Keith Haring from his childhood through his meteoric rise to fame. It sheds light on this important artist's great humanity, his concern for children, and his disregard for the establishment art world. Reproductions of Keith's signature artwork appear in scenes boldly rendered by Robert Neubecker. This is a story to inspire, and a book for Keith Haring fans of all ages to treasure.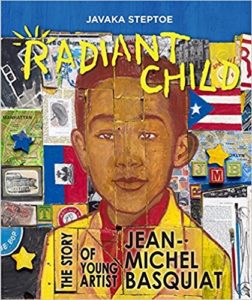 Radiant Child: The Story of Young Artist Jean-Michel Basquiat by Javaka Steptoe
Jean-Michel Basquiat and his unique, collage-style paintings rocketed to fame in the 1980s as a cultural phenomenon unlike anything the art world had ever seen. But before that, he was a little boy who saw art everywhere: in poetry books and museums, in games and in the words that we speak, and in the pulsing energy of New York City. Now, award-winning illustrator Javaka Steptoe's vivid text and bold artwork echoing Basquiat's own introduce young readers to the powerful message that art doesn't always have to be neat or clean–and definitely not inside the lines–to be beautiful.
Technique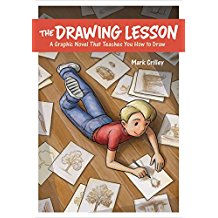 The Drawing Lesson: A Graphic Novel That Teaches You How to Draw by Mark Crilley
For the first time ever, drawing instructor and graphic novelist Mark Crilley brings his easy-to-follow artistic instruction to aspiring artists in the form of a comic book, providing you with a one-of-a-kind how-to experience. In The Drawing Lesson, you'll meet David—a young boy who wants nothing more than to learn how to draw. Luckily for David, he's just met Becky—his helpful drawing mentor. Page by page, Becky teaches David (and you!) about the essential fundamentals that artists need in order to master drawing, all in a unique visual format. In panel after panel, Crilley provides lessons on shading, negative space, creating compositions, and more, with accompanying exercises that you can try for yourself.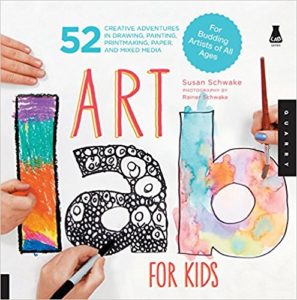 Art Lab For Kids: 52 Creative Adventures in Drawing, Painting, Printmaking, Paper, and Mixed Media – For Budding Artists of All Ages by Susan Schwake, photographed by Rainer Schwake
A refreshing source of ideas for creating fine art with children, Art Lab for Kids encourages the artist's own voice, marks, and style. This fun and creative book features 52 fine art projects set into weekly lessons, beginning with drawing, moving through painting and printmaking, and then building to paper collage and mixed media. Each lesson features and relates to the work and style of a contemporary artist.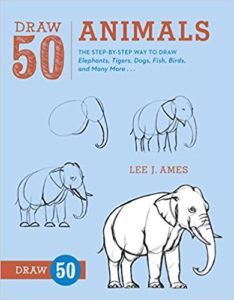 Draw 50 Book Series by Lee J. Ames
A terrific book series that guides artists to drawing all types of animals, flowers, plants, sea creatures, buildings, cars, and other things in topical books.
Middle Grade Fiction With Art Themes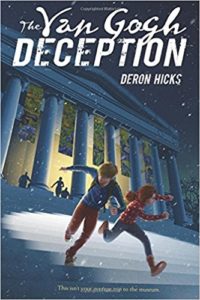 The Van Gogh Deception by Deron Hicks
As the stakes continue to rise, the boy must piece together the disjointed clues of his origins while using his limited knowledge to stop one of the greatest art frauds ever attempted. Digitally interactive, this breathtaking museum mystery offers QR codes woven throughout the book that bring renowned paintings to readers' fingertips.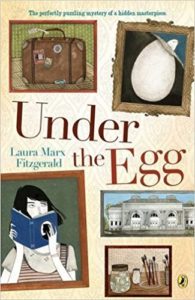 Under the Egg by Laura Marx Fitzgerald
When Theodora Tenpenny spills a bottle of rubbing alcohol on her late grandfather's painting, she discovers what seems to be an old Renaissance masterpiece underneath. That's great news for Theo, who's struggling to hang onto her family's two-hundred-year-old townhouse and support her unstable mother on her grandfather's legacy of $463. There's just one problem: Theo's grandfather was a security guard at the Metropolitan Museum of Art, and she worries the painting may be stolen.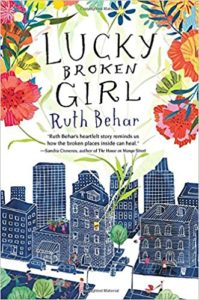 Lucky Broken Girl by Ruth Behar
Ruthie Mizrahi and her family recently emigrated from Castro's Cuba to New York City. Just when she's finally beginning to gain confidence in her mastery of English—and enjoying her reign as her neighborhood's hopscotch queen—a horrific car accident leaves her in a body cast and confined her to her bed for a long recovery. As Ruthie's world shrinks because of her inability to move, her powers of observation and her heart grow larger and she comes to understand how fragile life is, how vulnerable we all are as human beings, and how friends, neighbors, and the power of the arts can sweeten even the worst of times.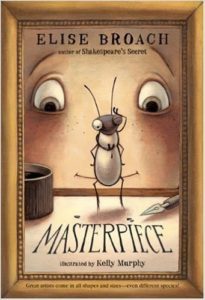 Masterpiece by Elise Broach
Marvin lives with his family under the kitchen sink in the Pompadays' apartment. He is very much a beetle. James Pompaday lives with his family in New York City. He is very much an eleven-year-old boy. After James gets a pen-and-ink set for his birthday, Marvin surprises him by creating an elaborate miniature drawing. James gets all the credit for the picture and before these unlikely friends know it they are caught up in a staged art heist at the Metropolitan Museum of Art that could help recover a famous drawing by Albrecht Dürer. But James can't go through with the plan without Marvin's help. And that's where things get really complicated (and interesting!). This fast-paced mystery will have young readers on the edge of their seats as they root for boy and beetle.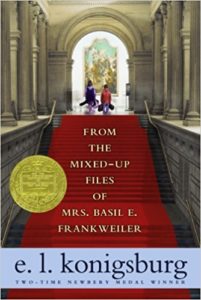 From the Mixed-Up Files of Mrs. Basil E. Frankweiler by E.L. Konigsburg
Claudia knew that she could never pull off the old-fashioned kind of running away…so she decided not to run FROM somewhere, but TO somewhere. And so, after some careful planning, she and her younger brother, Jamie, escaped — right into a mystery that made headlines!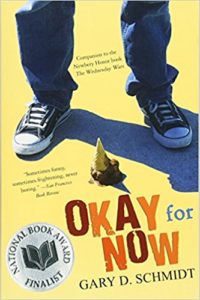 Okay For Now by Gary Schmidt
Doug struggles to be more than the "skinny thug" that some people think him to be. He finds an unlikely ally in Lil Spicer, who gives him the strength to endure an abusive father, the suspicions of a town, and the return of his oldest brother, forever scarred, from Vietnam. Schmidt expertly weaves multiple themes of loss and recovery in a story teeming with distinctive, unusual characters and invaluable lessons about love, creativity, and survival.
Just-For-Fun Art Books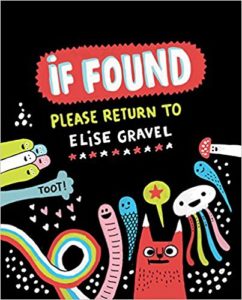 If Found… Please Return to Elise Gravel by Elise Gravel
Filled to the brim with vibrant felt marker illustrations, If Found… is not just an exhibition of Gravel's work, but a challenge to young artists to keep a daily sketchbook. She reveals her top tips to becoming a successful illustrator―practice! practice! practice!―while empowering young artists to face their fears of making "ugly drawings." Stop worrying about what makes a drawing good or bad―Elise draws anything and everything and you can too!
Doodle Adventures by Mike Lowery
Doodle Adventures: The Search for the Slimy Space Slugs! is a lighthearted fantasy where the reader first draws him- or herself into the story, and then continues by following prompts and adding more illustrations and doodles. Set in space, the book invites the reader to join Carl, a duck and member of a super-secret international group of explorers, on a journey in search of a very important grail-like object. The book is sturdy paper over board with beautiful cream paper—perfect for defacing! And by the end, the reader will have co-written a tale to return to again and again, and show off to family and friends.
Okay, onto new releases!
Picture Book New Releases! (All coming out on October 17th)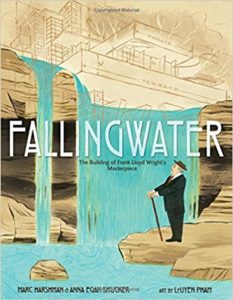 Fallingwater: The Building of Frank Lloyd Wright's Masterpiece by Marc Harshman and Anna Egan Smucker, art by LeUyen Pham (Roaring Brook Press)
Singing in the Rain, based on the Song by Arthur Freed and Nacio Herb Brown, pictures by Tim Hopgood (Roaring Brook Press)
Book or Bell? by Chris Barton and Ashley Spires (Bloomsbury)
A World of Cookies for Santa by M.W. Furman, illustrated by Susan Gal (HMH Books for Young Readers)
Get Well, Curious George by H.A. Rey (HMH Books for Young Readers)
The Twelve Days of Christmas, illustrated by Emma Randall, illustrated by Emma Randall (Penguin Random House)
My Journey to the Stars by Scott Kelly (Random House)
Middle Grade New Releases! (All coming out on October 17th)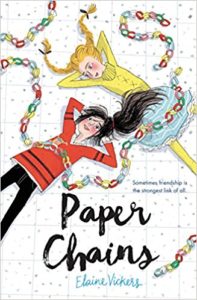 Paper Chains by Elaine Vickers (HarperCollins)
The Unbelievable FIB 2: Over the Underworld by Adam Shaughnessy (Algonquin Young Readers)
Applewhites Coast to Coast by Stephanie S. Tolan (HarperCollins)
The Legend of Shadow High by Shannon Hale and Dean Hale (Little, Brown)
HelloFlo The Guide, Period by Naama Bloom (Dutton Children's Books)
Ebook Deals!
Hoodoo by Ronald Smith (it was in my spooky middle grade book recommendation list a couple of weeks ago) is only $2.99!
The beautiful picture book I Wish You More by Amy Krouse Rosenthal, illustrated by Tom Lichtenheld, is only $1.99!
Warriors: A Vision of Shadows #1: The Apprentice's Quest by Erin Hunter is only $1.99!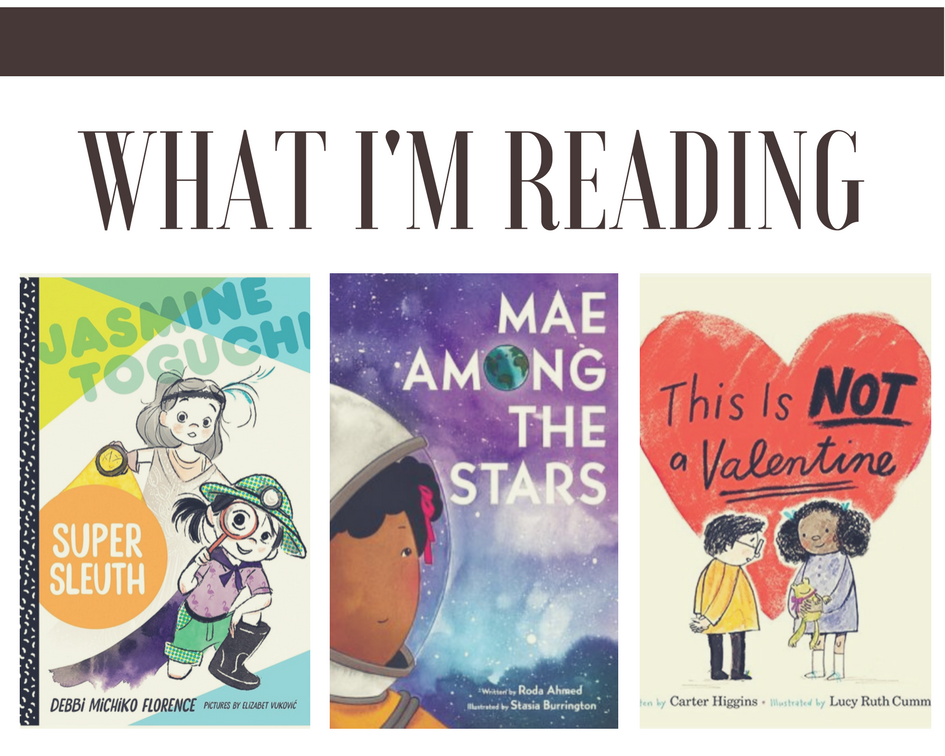 I've been reading some wonderful books! Jasmine Toguchi: Super Sleuth by Debbi Michiko Florence, Mae Among the Stars by Stasia Burrington and Roda Ahmed (1/9/18, HarperCollins), and This is Not a Valentine by Carter Higgins and illustrated by Lucy Ruth Cummings (12/26/17, Chronicle).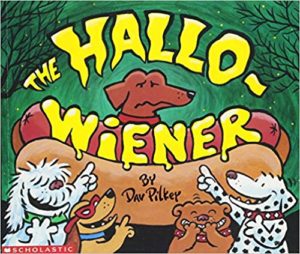 A newsletter reader named Jonathan sent me a note this week telling me about his favorite Halloween picture books. He is a 25+ year teacher of Special Needs Preschoolers, and he said that his two Halloween favorites are The Hallo-wiener by Dav Pilkey and The Spooky Old Tree by Jan and Stan Berenstain. Thank you for sharing, Jonathan!
I'd love to know what you are reading this week! Find me on Twitter at @KarinaYanGlaser, on Instagram at @KarinaIsReadingAndWriting, or email me at karina@bookriot.com.
Until next time,
Karina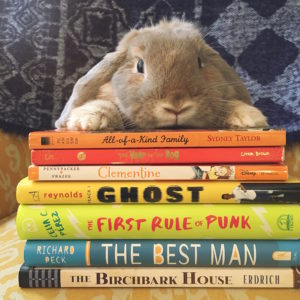 So many good books! Izzy can hardly stand it!
*If this e-mail was forwarded to you, follow this link to subscribe to "The Kids Are All Right" newsletter and other fabulous Book Riot newsletters for your own customized e-mail delivery. Thank you!*