2017's MacArthur Genius Grant Winners
The "Genius" grant, given to those who have "shown extraordinary originality and dedication in their creative pursuits and a marked capacity for self-direction," has been awarded to 24 artists, writers, historians, activists, and more for 2017. Among them are Book Riot favorite Jesmyn Ward, and Pulitzer Prize winner Viet Thanh Nguyen. See the full list of winners, along with many of their accomplishments, here.
Man Banned (Temporarily) From Library for Hiding LGBTQ DVDs
A patron of an Oregon library was banned for six months for purposefully hiding films he thought contained LGBTQ characters (he was, literally, judging them by their cover). The patron had complained in the past about those same materials, and had a history of vandalizing or tampering with materials. Some of the DVDs he hid were never recovered, causing the library to need to purchase replacements. " Any similar incident would lead to a lifetime ban from the Baker County Public Library."
A Waterproof Kindle is Finally Coming!
An Amazon Kindle Oasis that you can use by the pool is on its way– the latest version can be submerged in fresh water for up to an hour (but not salt water). The Oasis is the fanciest Kindle, at $250-$350, depending on what bells and whistles you want included. If that's too rich for your blood, the Kobo H20 is $180.
---
Sponsored by Penguin Teen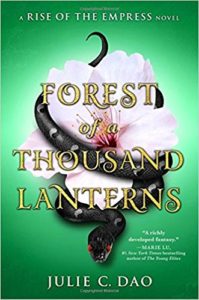 Eighteen-year-old Xifeng is beautiful. The stars say she is destined for greatness, that she is meant to be Empress of Feng Lu. But only if she embraces the darkness within her. Set in an East Asian-inspired fantasy world filled with both breathtaking pain and beauty, Forest of a Thousand Lanterns possesses all the hallmarks of masterful fantasy: dazzling magic, heartbreaking romance, and a world that hangs in the balance. Fans of Heartless, Stealing Snow, and Red Queen will devour this stunning debut.