Welcome back to In The Club, a newsletter of resources to keep your book group well-met and well-read. Let's dive in.
---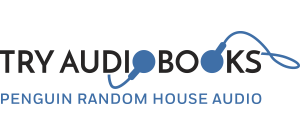 This newsletter is sponsored by Penguin Random House Audio.
Listen to your book club's next pick. Visit TryAudiobooks.com/bookclub for suggested listens and for a free audiobook download of The Knockoff!
With fall ramping up, it's back to juggling busy school and work schedules with social engagements like date nights, yoga with friends, and book club. Luckily, you can listen to your book club's next pick so you can stay on top of it all.
---
It's Spooktober! Halloween is one of my favorite holidays — candy and costumes, how can you go wrong? So expect lots more links of this sort in the coming weeks. For today, I've got two:
Have some haunted house stories, which are truly a mainstay of creepy fiction.
Kristen Bell, RuPaul, LeVar Burton, and several more amazing actors are part of a new murder mystery podcast! It's called Deadly Manners, and it's a 1940s-style radio drama. The first three episodes are live right now, and might make a good change of pace for your group this month.
Can't (or don't want to) make time for an IRL book club? Join a Goodreads group! We've put together a guide to help you find the right one.
The National Book Award finalists have been announced! While you could wait for the winners, I love mining the shortlist. Whether you want Young Adult, fiction, nonfiction, or poetry, this is an excellent year to pick up a nominee.
What is a mystery Skype? It's a thing that book clubs do apparently! I had no idea. It's a bit like 20 Questions, in which you pair up with another book group and try to guess where in the world each other are. If you want to skip a book discussion and just do something fun, this might be a perfect choice.
For all my foodies: Here's a list of memoirs from the culinary world, all written by women. There are several on here that I'd never heard of, alongside standards like Blood, Bones, & Butter and Tender at the Bone, and I now have a bunch on my TBR. Many of these also include recipes, in case your group is feeling inspired to cook!
Spotlight On: Kazuo Ishiguro
Last week Kazuo Ishiguro won the Nobel Prize for Literature, which was a bit of a surprise since he didn't make it onto the betting list. He's most famous for Never Let Me Go — which was adapted not once but twice — and Remains of the Day, but he's the author of six other books. There's no time like the present to pick him for your next discussion! Here are a few other links to help you out.
Not sure where to start? We can help.
Why is this an important win? A bookseller rejoices and explains.
The NYT is throwing some mild shade. "Formidable and not uninteresting," really???? That's what you're going with? Well ok.
Slate discusses Never Let Me Go and The Buried Giant in particular.
And here's an interview with Ishiguro from the Daily Beast's archives.
And that's a wrap! If you're interested in more science fiction and fantasy talk, you can catch me and my co-host Sharifah on the SFF Yeah! podcast. For many many more book recommendations (including the occasional book club question!) you can find me on the Get Booked podcast with the inimitable Amanda.
Your fellow booknerd,
Jenn
More Resources: 
– Our Book Group In A Box guide
– List your group on the Book Group Resources page