Hi Kid Lit friends!
After last week's newsletter with spooky middle grade reads, I thought I'd put together a round-up of Halloween books for younger readers. My kids get scared easily, especially since we read a lot before bedtime, so they definitely need gentler Halloween stories. Here's a list of Halloween-themed picture books, early readers, and chapter books.
---
Sponsored by Wishtree by Katherine Applegate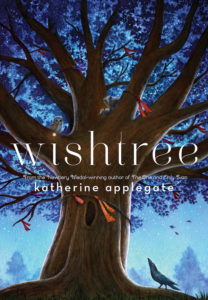 Red is an oak tree who is many rings old. Red is the neighborhood "wishtree"—people write their wishes on pieces of cloth and tie them to Red's branches.
You might say Red has seen it all. Until a new family moves in. Not everyone is welcoming, and Red's experience as a wishtree is more important than ever.
Funny, deep, warm, and nuanced, this is Newbery Medalist and New York Times–bestselling author Katherine Applegate at her very best—writing from the heart, and from a completely unexpected point of view.
---
Picture Books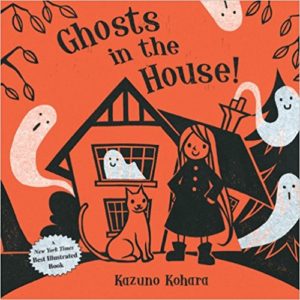 Ghosts in the House by Kazuno Kohara
At the edge of town lives a clever girl with a spooky problem: Her house is haunted! Luckily, she happens to be a witch and knows a little something about taking care of ghosts. She catches them, puts them in the washing machine, airs them out to dry, and gives them new lives as sofa covers, table cloths, and, of course, bed sheets to cozy up under. Fresh and charming illustrations in dynamic orange, black and white bring this resourceful heroine and these spooky ghosts to life.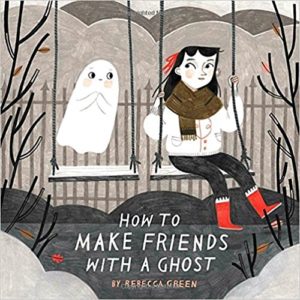 How To Make Friends With A Ghost by Rebecca Green
What do you do when you meet a ghost? One: Provide the ghost with some of its favorite snacks, like mud tarts and earwax truffles. Two: Tell your ghost bedtime stories (ghosts love to be read to). Three: Make sure no one mistakes your ghost for whipped cream or a marshmallow when you aren't looking! If you follow these few simple steps and the rest of the essential tips in How to Make Friends with a Ghost, you'll see how a ghost friend will lovingly grow up and grow old with you.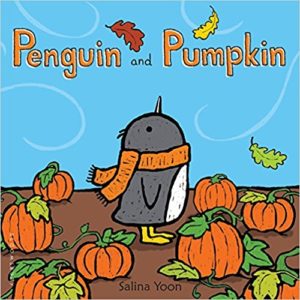 Penguin and Pumpkin by Salina Yoon
When Penguin and Bootsy plan a field trip in search of Fall, Penguin's little brother, Pumpkin, wants to come, too. But Pumpkin is heartbroken to find out he's too little to go! How can Pumpkin still be a part of the fun? As they discover the magic of Fall at a farm, Penguin and his friends put together a very special surprise to bring back to Pumpkin at home.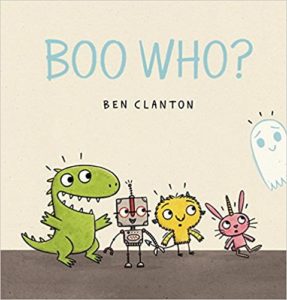 Boo Who? by Ben Clanton
Boo is new. And even if the other kids are welcoming, it can be scary being new, especially for a shy ghost who can't play any of their games. ("You tagged me? Oh, sorry. I couldn't feel it.") Can Boo find a way to fit in and make friends with the rest of the group? From the creator of Rex Wrecks It! comes a funny story about feeling invisible — and finding a way to be seen and appreciated for who you are.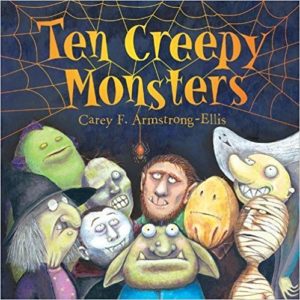 Ten Creepy Monsters by Carey F. Armstrong-Ellis
Ten creepy monsters met 'neath a gnarled pine.
One blew away,
And then there were nine.
And so the countdown begins . . . A mummy, a witch, a ghost, a werewolf, a vampire, and others all gather, but one by one their crowd diminishes. At last there is only one creepy monster left. But what kind of monster is it?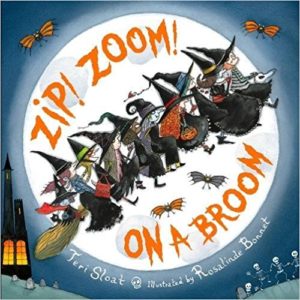 Zip! Zoom! On A Broom! by Teri Sloat, illustrated by Rosalinde Bonnet
One goes zip,
two go zoom.
Three witches glide from room to room.
So begins this witchy counting story. Counting up from 1 to 10 and back down again, ten witches jump on a broom–and then fall off one by one! Written in pitch-perfect rhyme, and full of fun read-aloud energy that will have kids memorizing lines and clamoring to read the book again and again, this book hits the mash-up sweet spot between an important concept and Halloween fun!
Early Readers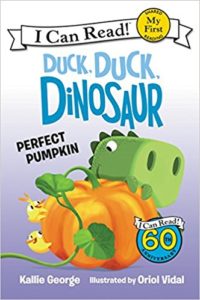 Duck, Duck, Dinosaur: Perfect Pumpkin by Kallie George, illustrated by Oriol Vidal
Feather, Flap, and Spike are on the hunt for the perfect pumpkin to decorate in this sweet story about autumn fun. Spike thinks all the pumpkins they find are perfect, indeed: for juggling, leaping over, and bowling! But what will they do when Spike accidentally squishes all the perfect pumpkins that the ducklings find? These silly siblings learn one way a squished pumpkin can still be perfect—for making pumpkin pie!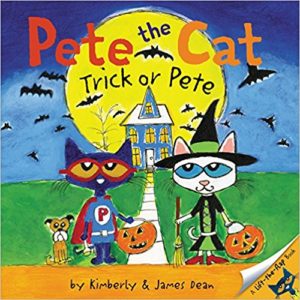 Pete the Cat: Trick or Pete by James Dean
Pete loves Halloween and candy but not so much scary surprises. Follow Pete as he goes trick-or-treating from house to house and discover what is waiting behind each door. With over ten flaps that open to reveal fun spooky surprises, this book is spooktacular!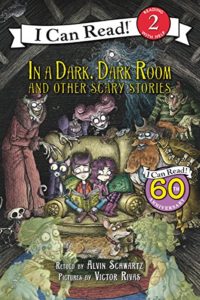 In a Dark, Dark Room and Other Scary Stories by Alvin Schwartz, illustrated by Victor Rivas
Newly reillustrated, this classic I Can Read full of spooky stories is perfect for beginning readers who love a bit of a scare. Victor Rivas's silly and spooky art will introduce a new generation to stories inspired by traditional folktales like "The Teeth," "In the Graveyard," "The Green Ribbon," "In A Dark, Dark Room," "The Night It Rained," "The Pirate," and "The Ghost of John."
Chapter Books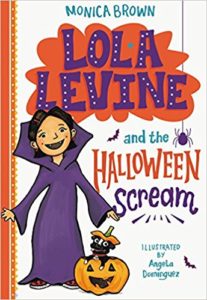 Lola Levine and the Halloween Scream by Monica Brown, illustrated by Angela Dominguez
It's Halloween–Lola and Ben's favorite holiday. She loves pumpkins, scary costumes, monsters, and ghosts–and she likes to scare people, too. But when Lola plays a scary joke on her super best friends, Josh Blot and Bella Benitez, it doesn't go as planned. Can Lola learn from her mistake and still have a happy halloween?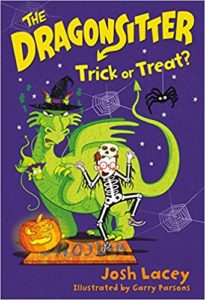 The Dragonsitter: Trick or Treat by Josh Lacey
Halloween night is full of strange creatures: witches, vampires, ghosts – and dragons! Eddie and Emily take their uncle's pet dragons trick-or-treating. But the dragons have quite the sweet tooth, and it's not long before things go ghoulishly wrong! Told all in emails, the Dragonsitter chapter book series will have readers laughing out loud and begging for more!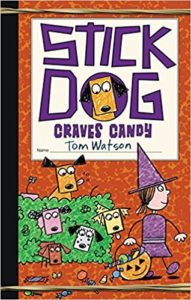 Stick Dog Craves Candy by Tom Watson
Stick Dog and the gang are on their usual hunt for food, but there is something unusual going on. Little humans are dressed up as creepy witches and spooky ghosts, all carrying big orange buckets! Their search leads them to something unexpected and delicious and sweet—candy! Once they get a taste, they will stop at nothing to get more. The gang will have to avoid terrifying witches and even escape a creepy haunted house! Will Stick Dog's smarts, courage, and patience be enough to lead his buddies to the best treats ever?
Okay, on to these fabulous new releases, all coming out on October 10th!
Picture Book New Releases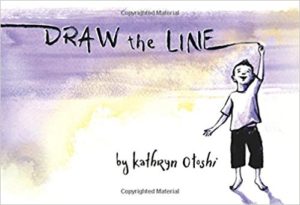 Draw the Line by Kathryn Otoshi (Roaring Brook Press)
Blue vs. Yellow by Tom Sullivan (Balzer + Bray)
Busy Days with Curious George by H.A. Rey (HMH Books for Young Readers)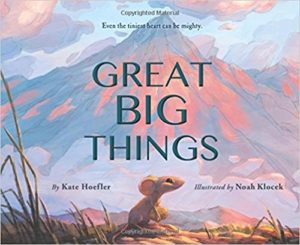 Great Big Things by Kate Hoefler, illustrated by Noah Klocek (HMH Books for Young Readers)
When the Snow Falls by Linda Booth Sweeney, illustrated by Jana Christy (G.P. Putnam's Sons Books for Young Readers)
Middle Grade New Releases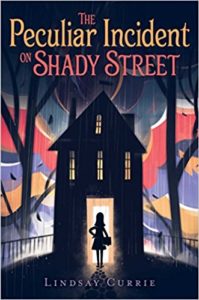 The Peculiar Incident On Shady Street by Lindsay Currie (Aladdin)
Mr. Lemoncello's Great Library Race by Chris Grabestein (Random House Books for Young Readers)
Unstoppable: True Stories of Amazing Bionic Animals by Nancy Furstinger (HMH Books for Young Readers)
Race to the Bottom of the Sea by Lindsay Eager (Candlewick)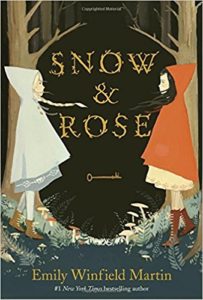 Snow & Rose by Emily Winfield Martin (Random House Books for Young Readers)
Tentacle and Wing by Sarah Porter (HMH Books for Young Readers)
Spy School Secret Service by Stuart Gibbs (Simon & Schuster Books for Young Readers)
Trickiest! 19 Sneaky Animals by Steve Jenkins (HMH Books for Young Readers)
As you might have heard, the National Book Awards released their finalists, and yay for Clayton Byrd Goes Underground by Rita Williams-Garcia, the only middle grade title to be a Young People's Literature book finalist!
Lots of great children's book coverage on Book Riot this past week:
I'd love to know what you are reading this week! Find me on Twitter at @KarinaYanGlaser, on Instagram at @KarinaIsReadingAndWriting, or email me at karina@bookriot.com.
Until next time,
Karina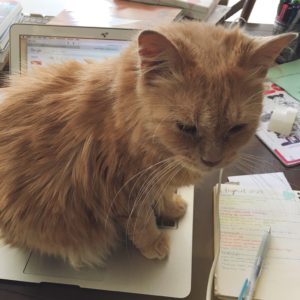 I had to fight Nala for the computer the entire time I was writing this newsletter.
*If this e-mail was forwarded to you, follow this link to subscribe to "The Kids Are All Right" newsletter and other fabulous Book Riot newsletters for your own customized e-mail delivery. Thank you!*