Welcome to October, book fiends! The wonderful word of books continues to hum with exciting adventures, some of which I have listed below. Hope you're reading something marvelous! Enjoy your week, and be excellent to each other. – xoxo, Liberty
---
Sponsored by The Bloodprint by Ausma Zehanat Khan, published by Harper Voyager.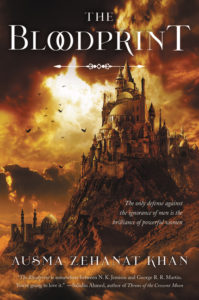 The Talisman, a superstitious patriarchy that suppresses knowledge and subjugates women, is growing in power throughout the land. The only ones who are strong enough to stand up to their darkness are the Companions of Hira, a group of influential women whose power derives from the Claim – the magic inherent in the words of a sacred scripture. Foremost among them is Arian and her fellow warrior, Sinnia. As they search for a miraculous symbol of hope that can destroy the Talisman's leader, Arian and Sinnia know that this mission may well be their last.
---
Deals, Reals, and Squeals!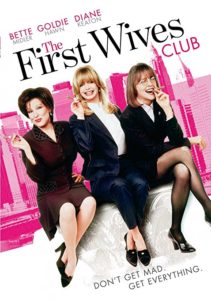 The First Wives Club is getting a television series reboot.
Roxane Gay casually mentioned she has a new novel coming next year. (!!!!)
Amazon announced three new sci-fi shows for its streaming service, including adaptations of Snow Crash and Ringworld.
Nnedi Okorafor is writing a new Black Panther comic.
Danny Glover has been cast in the Locke & Key adaptation.
Jon Hamm has been tapped to play the archangel Gabriel in Good Omens. (My favorite Gabriels will always be Christopher Walken and Tilda Swinton.)
And Netflix is rebooting Shaft for television.
Adam Silvera and Becky Albertalli have co-written What If It's Us, to be published in 2018.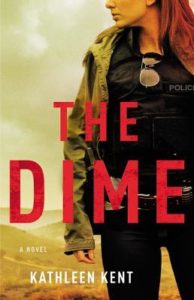 Fox is developing The Dime, based on the novel by Kathleen Kent.
Jill Scott cast as Lady Eve in Black Lightning series.
Starz is moving ahead with its adaptation of Stephanie Danler's Sweetbitter.
Saladin Ahmed will collaborate with artist Sami Kivelä on an original comic series, Abbott, which will launch in January 2018
Emma Thompson and Anthony Hopkins are set to star in a version of King Lear.
Garth Books: Country singer Garth Brooks says his forthcoming memoir will be five volumes long.
Cover Reveals
Julie Murphy's Puddin' has a cover and it's marvelous. (Balzer + Bray, May 8, 2018)
Book Riot has the cover reveal for Betsy Cornwell's feminist Robin Hood retelling, The Forest Queen. (Clarion Books, August 7, 2018)
Entertainment Weekly has a peek at the new Tahereh Mafi, Restore Me. (HarperCollins, March 6, 2018)
Rioter Eric Smith has a new book coming and here's the first look at the cover: The Girl in the Grove! (North Star Editions, May 8, 2018)
I could not be more excited for the new Laura van den Berg novel! (FSG Books, August 7, 2018)
B&N Teen has the first look at Monday's Not Coming by Tiffany D. Jackson (Katherine Tegen Books, June 5, 2018)
Or for the new Chelsea Hodson essay collection! (Henry Holt, June 5, 2018)
Sneak Peeks!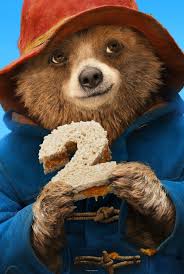 The sequel to Paddington is coming this holiday season!
The full trailer for How to Talk to Girls at Parties, based on the Neil Gaiman story, is now available to watch.
Tom Hanks made a trailer to share a look at his upcoming story collection.
And the first trailer for Philip K. Dick's Electric Dreams series is out.
Book Riot Recommends 
At Book Riot, I work on the New Books! email, the All the Books! podcast about new releases, and the Book Riot Insiders New Release Index. I am very fortunate to get to read a lot of upcoming titles, and I'm delighted to share a couple with you each week!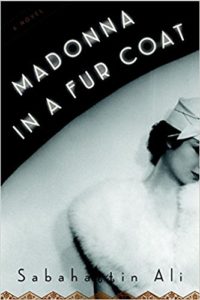 Madonna in a Fur Coat by Sabahattin Ali (Author), Ureen Freely and Alexander Dawe (Translators) (Other Press, November 7) Available in English for the first time, this is a Turkish classic about a young Turkish man in the 1920s who leaves his home for Berlin. There he finds love with a beautiful artist, and becomes torn between the life he craves and following the tradition of his homeland. It's gorgeous.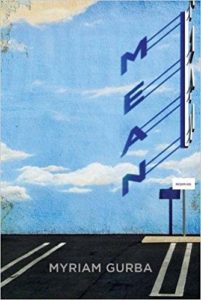 Mean by Myriam Gurba (Coffee House Press, November 14) 
The story of Gurba's coming of age as a queer, mixed-race Chicana, told in blistering prose. Gurba tackles several very important, serious subjects such as racism and homophobia, and manages to make the discussions humorous while laying down hard truths and great points. I wish this had been twice as long.
And this is funny.
Okay, maybe less funny, more cool: Cinematic typewriters.