Book World Will Close All 45 Locations
Wisconsin-based Book World is closing all 45 of its bookstores across seven states. Book World stores are located in Wisconsin, Michigan, Minnesota, Illinois, Iowa, North Dakota, and Missouri, with 320 employees across all stores. Beginning Thursday, possibly through January, each store will hold a liquidation sale until all inventory is sold. The Milwaukee news site reporting on the closures noted that Book World is the fourth largest bookstore chain in the United States.
Seattle Designated A UNESCO City Of Literature
Seattle joins 20 cities as a UNESCO City of Literature. Iowa City is the only other U.S. City of Literature. The Seattle Review of Books initially thought the city's bid, which began in 2013, would be stalled by the U.S.'s withdrawal from UNESCO. Seattle City of Literature Board President Bob Redmond stated that the designation is "just extremely timely." In order to qualify for the designation, cities have to meet a number of criteria, including "quality, quantity and diversity of publishing in the city." Seattle joins cities including Edinburgh, Prague, Barcelona, and Baghdad.
Jacqueline Woodson Signs Two-Book Deal With Riverhead
The National Book Award winner says she'll write a novel and a nonfiction book. Woodson became the 2014 National Book Award Winner for Young People's Literature with Brown Girl Dreaming, and published Another Brooklyn in 2016. Entertainment Weekly interviewed the author about publishing her first adult novel in 20 years (Another Brooklyn), her move to Riverhead, and, of course, what she's reading now. She didn't offer details about the novel or nonfiction book, but somehow they're already on my TBR.
---
Sponsored by THE BRIDE WHO GOT LUCKY, Janna MacGregor's captivating new Regency romance that's available October 31.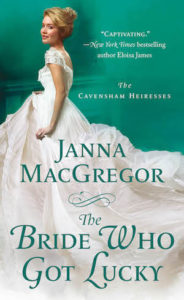 On October 31, Janna MacGregor's Cavensham Heiresses series continues with The Bride Who Got Lucky.
Nicholas St. Mauer prefers solitude to society. But driven by honor, the reclusive Earl feels obliged to keep a watchful eye on Lady Emma Cavensham. She possesses a penchant for passions that finds Nick in constant peril of losing his well-structured solitude.
Emma has little use for a man—especially with the more pressing mission of proving her late friend's death was no accident. But when a compromising moment upends all her plans, Nick may be the only man brave enough to join in Emma's cause. . .and fight for her heart.