Today's Riot Rundown is sponsored by Dead In The Water by Denise Swanson.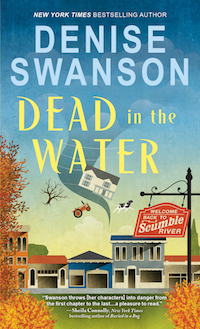 First in a brand new series featuring New York Times bestselling author Denise Swanson's beloved Scumble River!
A twister, a kidnapping, and a murder—oh my! Scumble River may never be the same.
For school psychologist Skye Denison, there's certainly no place like home. When a violent tornado devastates her small hometown of Scumble River, she can't see how the community will ever recover—especially since town councilman Zeke Lyons has apparently died in the storm.
But things get even worse for Skye when her police chief husband, Wally, disappears in the midst of investigating Zeke's death. Did Zeke really die in the storm, or was he murdered? And could Wally be next on the criminal's hit list?