Librarian Rejects Book Donation From Melania Trump
A Massachusetts librarian turned down a selection of Dr. Seuss classics donated to her Cambridge elementary school by Melania Trump. The school librarian, Liz Phipps Soeiro, suggested that Trump donate books to "the underfunded and underprivileged communities that continue to be marginalized and maligned by policies put in place by Secretary of Education Betsy DeVos." She also sent along a list of 10 alternative books that would better serve these students, including Mama's Nightingale: A Story of Immigration and Separation written by Edwidge Danticat and illustrated by Leslie Staub. I want to send this woman a thank you card.
Andrew Carnegie Medals for Excellence: Longlist 2018
The American Library Association released the 2018 Andrew Carnegie Medals for Excellence longlist. The award recognizes the best fiction and nonfiction books for adult readers published in the U.S. the previous year. Sing, Unburied, Sing by Jesmyn Ward seems to be on every list this awards season and made it onto the Carnegie Fiction longlist alongside What We Lose by Zinzi Clemmons and The Heart's Invisible Furies by John Boyne. Roxane Gay's Hunger and Sherman Alexie's You Don't Have to Say You Love Me made the Nonfiction list. The six-title shortlist—three each for the fiction and nonfiction medals—will be announced on October 25, 2017.
The Princess Bride Returns To Theaters
William Goldman's classic love story The Princess Bride will return to theaters for its 30th anniversary. A short film about The Princess Bride's legacy by the film's director, Rob Reiner, will accompany the screenings. The limited release will last only two days–Sunday, October 15, and Wednesday, October 18–as part of the TCM Big Screen Classics series from Fathom Events and Turner Classic Movies. I'm ready with the popcorn and all the best quotes.
---
Thanks to PageHabit for sponsoring today's newsletter.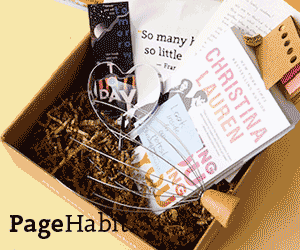 PageHabit offers monthly book boxes curated and annotated by acclaimed authors for the most diehard bookworms. Each box comes with an exclusive, author-annotated new release, a written letter from the author, a bonus short story, fun bookish goods and instant membership into an active online book community of over 20,000 members. For every box purchased, PageHabit makes a donation to support children's literacy around the world, so you can read well and do good. Readers can choose from eight genres including Science Fiction, Fantasy, Horror, Historical Fiction and more. Get 10% off your first box with code "RIOT".