Dee Rees Will Direct An Adaptation Of Joan Didion's The Last Thing He Wanted
Director Dee Rees will adapt Joan Didion's political thriller, The Last Thing He Wanted, for film. Rees garnered attention at the Sundance Film Festival as the director of Mudbound, a film based on the book by Hillary Jordan, which recently sold to Netflix for $12.5 million. Didion's novel is about a Washington Post reporter who quits her job to take up work as an arms dealer for covert government forces. Didion has been all over the news lately–most recently due to the announcement of her documentary coming to Netflix next month.
The First Annihilation Trailer Is Out
Jeff VanderMeer's Annihilation is being adapted for film, and today we got the first teaser trailer. The story follows a female scientist (played by Natalie Portman) leading an expedition of three more women into strange terrain. The cast includes Gina Rodriguez and Tessa Thompson. Based on the trailer, the film looks like it's going to be perfectly tense and full of thrills, which I'm here for (expect all the creepy flora and fauna). But take a look and judge for yourself.
PeopleTV Premiers A New Bookish Show
PeopleTV aired the first episode of a new show called Shelf Life, which is being advertised as a place where viewers can find out about buzzy upcoming books, hear from authors, and chat about book culture. The show is hosted by Oprah's Book Club and special projects producer Jill Adams. The premier focused on must-read books for the fall curated by People and Entertainment Weekly book editors, and interviews with authors including Ruth Ware (The Lying Game).
---
Thank you to Provenance by Ann Leckie for sponsoring today's newsletter.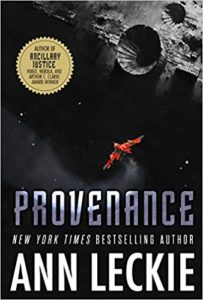 Following her record-breaking debut, award winner Ann Leckie, returns with a new novel of power, theft, privilege and birthright.
A power-driven young woman has one chance to secure the status she craves and regain priceless lost artifacts prized by her people. She must free their thief from a prison planet from which no one has ever returned.
Ingray and her charge return to her home and find their planet in political turmoil, at the heart of an escalating interstellar conflict. They must make a new plan to salvage her future, her family, and her world, before they are lost to her for good.