Happy Thursday, audiophiles!
Given how much I talk and write about audiobooks, it occurred to me that I haven't given much thought into audiobook production. Instead of doing a round-up of audiobooks, as I usually do, I thought I would hunt down a bunch of different interviews with audiobook narrators and take a behind the scenes look at how some of the audiobooks we all know and love get made (cue The Room Where It Happens). We all intuitively know that being a good audiobook narrator requires a certain something, and it's interesting to read how different narrators approach that.
---

Sponsored by Rakuten Kobo Inc.
Calling all listeners—audiobooks are now available from Kobo. Find all your eBooks and audiobooks together in the FREE Kobo App for iOS and Android. Save with a subscription for the best deal on audiobooks—your first 30 days are FREE.
---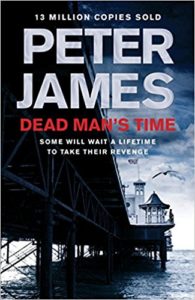 Daniel Wyeman has narrated Peter James' Roy Grace novels since 2013 and won Narrator of the Year at the Audiobook Production Awards in 2016. He did an interview with PanMacmillan this summer for #LoveAudio Week and described how he prepares for recording. First, he reads the text aloud with a pen in hand, so he can mark how the dialogue is supposed to be read, because the author often doesn't make that clear until after the dialogue. Wyeman says, "Many authors only describe the character who spoke and how, after they have delivered their speech e.g., 'Why didn't you tell me?' Alison shouted. Prepping like this means my reading can be more fluid."
Physically engaging with the text doesn't end there, Wyeman says, "I also mark-up inflection, intonation and pacing to help convey the drama of the story. I make lists of all the characters and note down what the author says about each character to help me imagine their voices, and then I record their voice so that I can keep it consistent over the course of the book." Kinda makes you want to see the hard copy of the books your favorite narrators use when they're recording, doesn't it?
Once that's done, Wyeman sits down with the producer and/or the author and goes through any questions he has about how something should be read, or the plot or storyline. He also talks about eating and drinking on a regular schedule when he's recording to prevent any strange stomach noises that might disrupt the recording. On a personal note, I would give my right arm to hear a collection of Unfortunately Timed Farts Audiobook Narration Bloopers.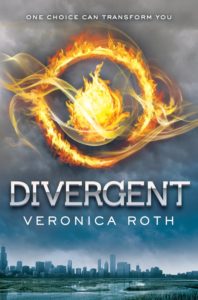 Not all narrators prepare the same way, however (#notallnarrators?), as this interview with Emma Galvin, narrator of the Divergent Trilogy among other titles demonstrates. She says, "I'm not a big technical prepper. I read the book as much as possible and just try and get deeper into the story, what the tone is, who the characters are, and I mark up big shifts in story, etc. But when I go in to actually record, I just work from a clean copy. It feels like a nice fresh start, like I'm discovering this world for the first time as I read."
Galvin also talks about fighting various gassy urges during recording, so it must be something all the great narrators grapple with (everybody burps!). She says, "I happen to be a big belcher, especially when I'm talking a lot, so I usually just warn whomever I'm working with, and I also have a foul mouth, I think, compared to most people. But this one director/engineer I worked with, Mark Kondracki (great guy), put together a compilation of all of my burping and cursing during a book. It was pretty amazing. I think he called it his "Ode to Emma Galvin." So that says a lot about me…" What is says about Emma Galvin, of course, is that I want to be best friends with her.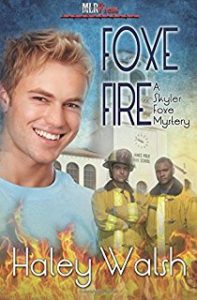 Here's another interesting tidbit I came across while reading all these narrator interviews. Joel Leslie, narrator of many audiobooks, including the Skyler Foxe books, gives authors a one page character sheet to fill out. He says, "I ask [the author] to tell me for each character their Hollywood dream casting (vocally), age, level of education, who they are related to or from the same region as (You might accidentally miss that on page 264 you learn someone is someone's sister and they grew up in the same town and you've been voicing them from totally different regions). I also ask them what kind of animal the character would be…knowing an author thinks of someone as a bear or a snake or an owl or a basset hound really helps me find the voice. Weirdly, for me, the minor characters with a couple of lines are the ones that are the toughest sometimes."
New Release of the Week (publisher description in quotes)
Unbelievable: My Front-Row Seat to the Craziest Campaign in American History by Katy Tur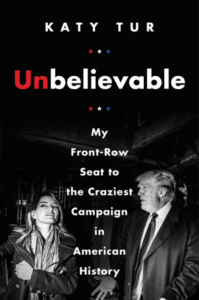 I cannot freaking wait to listen to this audiobook. Aside from the fact that she spells her name the wrong way (it's Katie, Katy, OK?) I love Katy Tur. I'm an avid MSNBC viewer and it was really interesting (and depressing) to see the kind of vitriol and harassment Tur received from Trump and his supporters during the 2016 election. It was so bad, in fact, that "following one rally, during which Trump launched a personal attack against her, the Secret Service had to accompany Tur to her car. But Katy was not alone. Millions of Americans watched in disbelief as Trump ordered Tur to 'be quiet' during one of his many press conferences and called her 'disgraceful', 'third-rate', 'not nice', and 'Little Katy.' Unbelievable is an unprecedented eyewitness account of the 2016 election from an intelligent, dedicated journalist at the center of it – a thoughtful historical record that offers eye-opening insights and details on our political process, the media, and the mercurial 45th president of the United States."
Book Riot Audiobook Posts You May Have Missed:
HOW TO BECOME AN AUDIOBOOK NARRATOR
Rioter Rebecca interviews Audie Award winning narrator Michael Levine about everything from audiobook narrator salaries to how to become an audiobook narrator.
8 GREAT MISSING PERSON MYSTERIES ON AUDIO
A selection of thrilling and addictive missing person mysteries that are as wonderful in audiobook format as they are in print.
10 WORLD OF WARCRAFT AUDIOBOOKS, TO GET YOUR READ ON WITH YOUR GAME ON
As they won't take time away from the game, World of Warcraft audiobooks can be an excellent solution to get some reading in while gaming. Rah Carter tells you what you need to know to get started.
Feel free to get in touch any time, for any reason! I'm on Twitter at msmacb and/or you can reach me by email at katie@riotnewmedia.com. I'm always looking for suggestions or ideas for the newsletter, questions you'd like me to address, or hearing about whatever it is you're listening to and loving.
Until next week,
~Katie (not Katy)