Pennywise Returns In 2019
Send in the clowns. Stephen King's IT will return to theaters for a sequel on September 6, 2019. I don't think anyone's surprised what with the success of the first, which became the top-grossing horror film of all time domestically. The upcoming release will continue the story with the kids returning to Derry as adults. And guess who's been waiting all smiles and balloons? The kids from the first film will likely return for flashbacks, but the director has yet to be confirmed.
Author Junot Díaz Calls For Help For Puerto Rico
The author of The Brief and Wondrous Life of Oscar Wao called for help for hurricane-battered Puerto Rico. The American territory suffered terrible losses, including lives and resources, from Hurricane Maria. Díaz delivered his remarks at a Massachusetts fundraiser. A native of the Dominican Republic, the author said people need to unite to help Puerto Rico heal in the wake of devastation. If you're looking for a way to help, check out this effort from Restless Books.
The Book Of Mormon Becomes The Most Expensive Manuscript Ever Sold
The manuscript, previously in the possession of the Community of Christ, was sold to the Church of Jesus Christ of Latter-day Saints for $35m. According to the Community of Christ who announced the sale price, it's the highest ever paid for a manuscript. In second place is Bill Gates's $30.8m purchase of Leonardo da Vinci's Codex Leicester. Although, Mark James of the antiquarian booksellers Bernard Quaritch made a good point when he said "$31m in 1994 would be worth much more now." The LDS plans to display the manuscripts to the public in the coming months, and the Community of Christ will retain the rights to publish and protect the copyrights of its editions of the Book of Mormon.
---
Thank you to The Blind by A.F. Brady, published by Park Row Books, for sponsoring today's newsletter.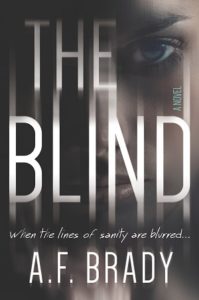 An addictive psychological suspense debut about a woman who goes so far off the deep end, she might never make it back up…
As the best psychologist at Typhlos, Manhattan's most challenging psychiatric institution, Sam James believes if she can't save herself, she'll save someone else. This savior complex serves her well in helping patients battle their inner demons. When a mysterious patient is admitted, Sam is determined to unlock his secrets and his psyche, but his twisted past leads to some terrifying discoveries about her own life. And so the mind games begin.