Readers Hide Books Globally to Celebrate Goodreads' Anniversary
Today, Goodreads tasked readers to hide books for people to find, read, and pass on as part of their ten-year anniversary celebration. Goodreads teamed up with The Book Fairies to make the magic happen. If you want to see what and where books were hidden by participants, look up #goodreadsturns10, #hideabookday, and #ibelieveinbookfairies on Facebook, Twitter, or Instagram, or check out the article for Goodreads' curated selection.
Hulu's Handmaid's Tale Series Wins an Emmy
This past Sunday, Hulu's adaptation of Margaret Atwood's The Handmaid's Tale won an Emmy for outstanding drama and, in light of the win, Atwood spoke to PEOPLE about renewed interest in her story. The book, which made it back onto bestseller lists after the recent election, are about a totalitarian theocracy where women are stripped of all agency. "There's a precedent in real life for everything in the book," she told PEOPLE. "I decided not to put anything in that somebody somewhere hadn't already done. But you write these books so they won't come true." If only, Ms. Atwood. If only.
Do Celebrity Book Blurbs "Blackmail" Readers?
Man Booker Prize judge Colin Thubron resurrected what The Guardian opines is an old publishing grievance when he complained that star endorsements "'almost blackmail' readers into feeling that 'you're either intellectually or morally incompetent if you don't love this book or you've failed if you haven't understood it.'" The Guardian went on to recount earlier dark tales of publishing where, for instance, blurbers are sent unsolicited manuscripts with the hope they'll regurgitate the publishers' endorsements whether or not they read the book. No surprises here, but certainly smirk-worthy.
---
Thank you to The Book of Separation by Tova Mirvis, published in hardcover and ebook from Houghton Mifflin Harcourt, for sponsoring today's newsletter.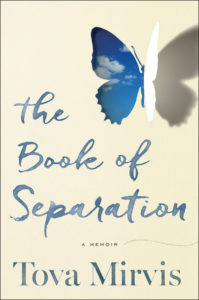 Born and raised in a tight-knit Orthodox Jewish family, Tova Mirvis committed herself to observing the rules and rituals prescribed by this way of life. She married a man from within the fold and began a family. But at age forty, Tova decides to leave her husband and her faith. This is a memoir about what it means to free the part of yourself that has been suppressed, even if it means walking away from the only life you've ever known. Honest and courageous, Tova shows us how she learns to silence her fears on her own path to happiness.