Happy September, lovers! Did you get any time off for reading over the long weekend (if you got a long weekend)?
Just a couple days after our last chat, Romance writers clapped back hard when one of their own spoke disparagingly about diversity and "social issues" in romance novels. As I am personally not a member of Romance Writers of America, I have not seen the remarks, but I got the jist from several authors I follow, primarily on Twitter. Ann Aguirre makes a clear statement, as does Olivia Waite, and the #RWAstrong tag will give you a little more. I haven't read any books by the author, but this isn't inspiring me to seek any out.
---
Sponsored by The Duchess Deal by Tessa Dare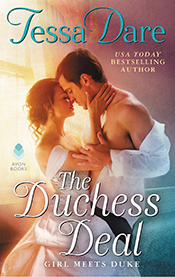 Since his return from war, the Duke of Ashbury has continued to seek justice, menacing London ne'er-do-wells by night. But now he is needs an heir – and a wife to produce one. When seamstress Emma Gladstone appears in his library wearing a wedding gown, he decides immediately that she'll do. His terms are simple: they will be husband and wife by night only, and once she's pregnant with his heir, they never need share a bed again. But Emma is no pushover, and once she's seen the man beneath the scars, he can't stop her from falling in love.
---
In happier news, PassionFlix went live this past weekend! Have you tried it out? So far it doesn't have a whole lot of movies, but looking at romance author Alessandra Torre's favorites, I think she and I should be BFFs.
Speaking of romantic movies, though: have you watched The Incredible Jessica James on Netflix? No matter what your life looks like, it's just what you read right now. I promise.
Do you read a lot of British-set historicals? What do you look for to determine whether it's a Regency or a Victorian? Heroes & Heartbreakers has a nice little primer. Though I'd also add: trains.
Deals!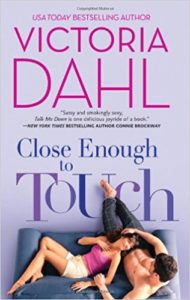 Close Enough to Touch is one of my favorite Victoria Dahl novels (though when you're wandering through Jackson, how do you pick a favorite?) and it's 1.99 right now!
Chetan Bhagat's Half Girlfriend (which is apparently now also a Bollywood movie) is 1.99!
Twice the Growl by Milly Tayden is 99 cents! And if you come to the end of that wanting more, there are way more in the series (for not a bad price).  
Sabrina Jeffries' The Pirate Lord is 1.99 right now. It's a classic!
Signs of Attraction by Laura Brown is 99 cents right now. It's an #ownvoices contemporary featuring two characters with hearing loss.
Over on Book Riot…
It's the week after Labor Day! For a lot of folks, it's back-to-school time (though where I live out in the desert, they've already been back in school for a month. A MONTH). So how about some romances to get you in the school zone?
I didn't mention it in news, but the New York Times books coverage desk is pulling even farther back on romance. Amanda Diehl had words.
But we know what we like, so how about some excellent self-published romance?
Dudes. Casey has come to realize that she just…doesn't like erotica. Do you? (I don't read much of it myself, actually; I tend to go for erotic romance. Which I read…a whole lot of.)
Santino Hassell tries to read an hour a day. What else did he have to tell us?
And don't forget, you can always check out the Romance/Erotica tag on the Book Riot site to go back and read stuff you might have missed, all the way back to the start!
Finally, there's book recs!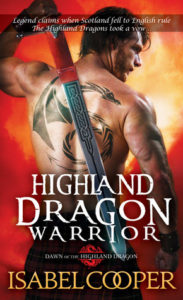 I was in a historical fantasy mood (and someone recommended a really interesting sounding one) so I started my weekend with Highland Dragon Warrior, the first in a very promising prequel series to Isabel Cooper's Highland Dragon series. Instead of the 19th-century setting of the first series, Highland Dragon Warrior is set in the time of Braveheart, when Scotland is fighting for its own sovereignty. The titular dragon warrior, Cathal, is home from foreign wars, looking over the family keep, when Sophia, a Jewish scholar and alchemist (alchemist!) arrives with one request: a few of his scales. He offers to grant them, if she helps him out with a mystical problem he's having. His friend is dissolving. Dissolving. Sophia takes up the challenge, and her awesomeness and fortitude are what will keep you turning pages until you reach the very end (at which point you will be grasping for Highland Dragon Rebel, which takes place twenty years later, features a badass dragon warrior, and unfortunately has none of Cathal or Sophia except in passing mention).
Snowspelled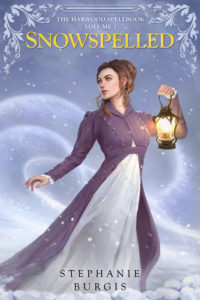 is a brief but jam-packed novella set in a very different kind of Alternate England. In Angland, humans and elves have created a pact that allows both worlds to reside in peace. Women control the nation—being the more prudent, level-headed ones—and men deal in all things magical. But Cassandra is a rare being, able to wield magic and one of the best in her class at the Library—but a bad choice made it so she could no longer practice. The pain of losing access to her magic led her to break things off with her fiance, but a snowed-in house party puts them into constant contact. Add to that a really bad agreement with an elf, and all kinds of fun can happen in a week! The compelling plot and the effortlessly diverse world kept me smiling and sighing in this single-sitting read. (Thanks, Stephanie, for sending me a copy!)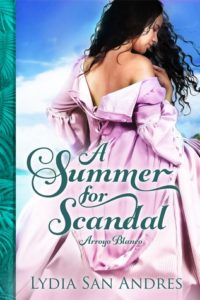 I haven't come across any historical fantasy by an author of color (if you know any, send them my way) but I did recently finish this fabulous self-published historical romance set in the Spanish Caribbean in the 19th century, A Summer for Scandal. It's got some awesome Pride and Prejudice vibes and features two author protagonists: one wrote a novel and is now publishing and writing for multiple journals—one in his own name, one a gossip rag very much not in his name. The other protagonist would love to publish a novel, but has settled for anonymously publishing a best-selling, scandalous serial. Throw them together and let the sparks ensue. And the scandal, of course. (I will warn you; there are some typos. I am a firm believer in copyediting, but whatever, I don't care. It's otherwise fantastic.)
How about some new and upcoming releases?
Sanctuary, Rebekah Weatherspoon
When the Scoundrel Sins, Anna Harrington
My Fair Lover, Nicole Jordan
The Betting Vow, KM Jackson
Her Hometown Girl, Lorelie Brown
Pitch Please, Lani Lynn Vale (9/8)
That's probably enough for now, huh? In the meantime, catch me on Twitter @jessisreading or Instagram @jess_is_reading, or send me an email at jessica@riotnewmedia.com if you've got feedback or just want to say hi!