The devastation climate change can bring shouldn't be any surprise by now. The pictures of what Harvey did to Houston are heartbreaking and by the time y'all get this, Irma will have made landfall over Florida. Unfortunately, certain individuals (pretend to) believe that climate change is a hoax invented by the Chinese government (how powerful that government must be! What with the ability to direct hurricanes and all). So this week, we're taking an educational perspective. Here are a few books about climate change based on, you know, science.
---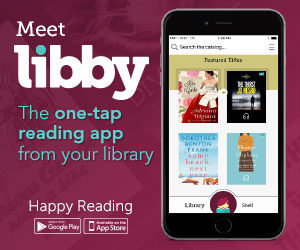 Sponsored by Overdrive
Meet Libby, a new app built with love for readers to discover and enjoy eBooks and audiobooks from your library. Created by OverDrive and inspired by library users, Libby was designed to get people reading as quickly and seamlessly as possible. Libby is a one-tap reading app for your library who is a good friend always ready to go to the library with you. One-tap to borrow, one-tap to read, and one-tap to return to your library or bookshelf to begin your next great book.
---
Climate Change Books for People Who Believe in Science
(publisher description in quotes)
Truth to Power: An Inconvenient Sequel by Al Gore
The sequel to the famous documentary and book duo, An Inconvenient Sequel discusses what we–-and the people we put in power–-need to do if we're going to avoid total catastrophe. A star studded cast of narrators add an interesting mix to the important (and somewhat bummer-y) material.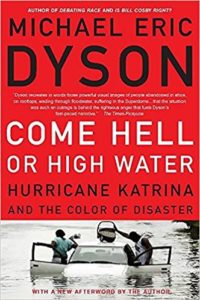 Come Hell or High Water: Hurricane Katrina and the Color of Disaster by Michael Eric Dyson
Like so much else, the effects of climate change aren't distributed equally. For myriad reasons, poor communities and communities of color are often disproportionately impacted when natural disasters occur, as was certainly the case during and after Hurricane Katrina. "Displaying the intellectual rigour, political passion and personal empathy that have won him acclaim and fans all across the colour line, Michael Eric Dyson offers a searing assessment of the meaning of Hurricane Katrina. Combining interviews with survivors of the disaster with his deep knowledge of black migrations and government policy over decades, Dyson provides the historical context that has been sorely missing from public conversation."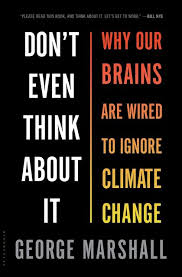 Don't Even Think About It: Why Our Minds Are Wired to Deny Climate Change  by George Marshall
I can make all the snarky climate-denier comments in the world but the fact is, I kind of get why people want to deny it's happening. I mean, it's not awesome to think about. But instead of that genius description, George Marshall explains how "our human brains are wired – our evolutionary origins, our perceptions of threats, our cognitive blind spots, our love of storytelling, our fear of death, and our deepest instincts to defend our family and tribe."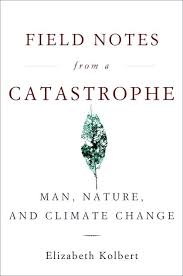 Field Notes from a Catastrophe: Man, Nature, and Climate Change by Elizabeth Kolbert
Author of the (equally excellent and terrifying) The Sixth Extinction, Elizabeth Kolbert documents the way in which man has impacted the climate and how we know it's different from the "normal ups and downs" of the planet (or whatever climate deniers are saying these days). Kolbert "interviews researchers and environmentalists, explains the science, draws frightening parallels to lost civilizations, and presents the moving tales of people who are watching their worlds disappear. Growing out of an award-winning three-part series for The New Yorker, Field Notes from a Catastrophe brings the environment into the consciousness of the American people and asks what, if anything, can be done to save our planet."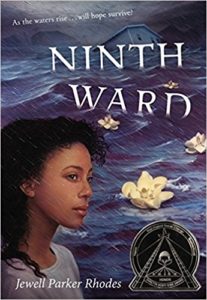 Ninth Ward by Jewell Parker Rhodes
One of the two fiction titles to make the list, this middle-grade novel tells the story of the orphaned Lanesha, a 12-year-old living in the Ninth Ward when Hurricane Katrina hits.  "Although Lanesha is different—able to see ghosts like that of her dead mother—she never feels unloved, an empowerment that helps her survive the devastating storm." I've read this book with more than one reluctant reader in my day and it's always a hit. The story doesn't sugarcoat the horror of Katrina but is an inspiring story of resilience despite the odds.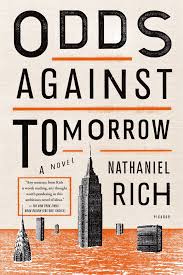 Odds Against Tomorrow by Nathaniel Rich
Mitchell Zukor is a brilliant mathematician. His job? Calculate "worst-case scenarios in the most intricate detail, and his schemes are sold to corporations to indemnify them against any future disasters. This is the cutting edge of corporate irresponsibility, and business is booming." But when a worst-case scenario actually happens, Zukor is in a prime position to profit from it. But what would that entail and does Zukor have the stomach for it?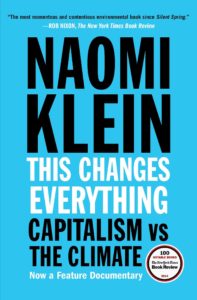 This Changes Everything: Capitalism vs. the Climate by Naomi Klein
The great Naomi Klein (author of The Shock Doctrine) looks at how capitalism has gotten us into our climate change mess but also how it can get us out of it. "Klein argues that the changes to our relationship with nature and one another that are required to respond to the climate crisis humanely should not be viewed as grim penance, but rather as a kind of gift – a catalyst to transform broken economic and cultural priorities and to heal long-festering historical wounds. And she documents the inspiring movements that have already begun this process: communities that are not just refusing to be sites of further fossil fuel extraction but are building the next, regeneration-based economies right now.
New Release of the Week
Defining Moments in Black History: Reading Between the Lies by Dick Gregory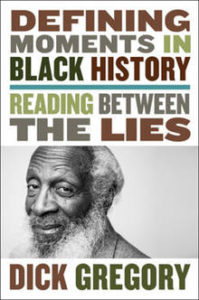 The passing of Dick Gregory in August was painful for the millions who loved his comedy. In this collection of essays, the late author looks back on 100 key events in the history of black America. "In his unapologetically candid voice, he moves from African ancestry and surviving the Middle Passage to the creation of the Jheri Curl, the enjoyment of bacon and everything pig, the headline-making shootings of black men, and the Black Lives Matter movement…an engaging look at black life that offers insightful commentary on the intricate history of the African American people, The Most Defining Moments in Black History is an essential, no-holds-barred history lesson that will provoke, enlighten, and entertain."
Links for Your Ears
All the Free Porn You Watch is Destroying the Industry
VICE talks to Jon Ronson about his new audiobook (and free porn).
Green Apple Books Celebrates 50 Years
OK, this isn't really about audiobooks but it was slim pickins this week and it's about an awesome (and local to me) bookstore.