Happy Friday, cyborgs and centaurs! I'm writing this a week in advance as I prepare to go on a 10-day family vacation, so instead of news we're focusing on reading lists! Today we've got a pair of teenage superheroes courtesy of Dreadnought and The Epic Crush of Genie Lo, mythological reads, Italian speculative fiction, and more.
---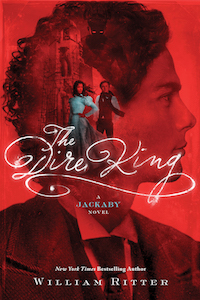 This newsletter is sponsored by The Dire King by William Ritter.
In the epic conclusion to the bestselling Jackaby series, the Sherlockian detective of the supernatural and his indispensable assistant, Abigail Rook, face off against their most dangerous, bone-chilling foe ever. EntertainmentWeekly.com calls the series "fast-paced and full of intrigue." The Dire King is filled with everything fans could hope for: new mythical creatures, page-turning action, surprising plot twists, romance, and an apocalyptic battle that will determine the fate of the world.
---
While you're waiting for American Gods to come back, here are some other books based on gods and mythology to keep you occupied. I am delighted to cosign Hot as Hades, The Hundred Thousand Kingdoms, Servant of the Underworld, and The Song of Achilles. (The others I just haven't read yet — must get on that.)
For the internationally inclined, here's some speculative fiction translated from Italian. 13th century Sardinia plus demons? DO WANT!
Also international: here's a list of dystopias from around the world. I've read and loved both LoveStar and The Queue, if you're looking for a starting point!
Why don't fantasy characters ever get divorced? I hadn't considered this question until I read this piece (which is odd when you consider that I myself am divorced). It's a valid point — if we can have grimdark and fantasy noir, can't we also bust up the "one true love" and "happily ever after" tropes?
We all need a LEGO BB-8.
How about some ebook deals?
– Go old-school: Hercules My Shipmate by Robert Graves, his magical retelling of the story of Jason and the Argonauts, is $1.99.
– Remember Silvia Moreno-Garcia, of "The Craft meets Mexico City meets the 80s" ? She's got a vampire novel called Certain Dark Things and it's on sale for $2.99!
– Finally ready to dive into Leigh Bardugo's Grisha trilogy? Six of Crows is $2.99.
Since picking up Miles Morales I've been on a teen superhero kick, so that's what you're getting today. Sorry not sorry!
Dreadnought (Nemesis #1) by April Daniels
I picked up Dreadnought because of the blurb on the front cover, which reads:
"I didn't know how much I needed this brave, thrilling book until it rocked my world. Dreadnought is the superhero adventure we all need right now."―Charlie Jane Anders, author of All the Birds in the Sky
Having blazed through it in a day and a half, I could not agree more. Dreadnought is the hopeful, funny, sharp, insightful, occasionally devastating superhero story I didn't know I needed.
Teenager Danny Tozer is hiding behind a mall, painting her toenails, when a superhero crash-lands and dies next to her. She's hiding because no one can know she's painting his toenails, and she's painting her toenails because it's the only way to express the truth: that Danny is a girl trapped in a male body. As the dying superhero's mantle is passed on, it remakes Danny's body. Along with super strength and super speed, Danny also is now finally, visibly, a young woman. It's everything she's been dreaming of! She wants nothing more than to use her powers for good and have everyone see her for who she really is.
But that's not as easy as it should be. Her parents, particularly her emotionally abusive father, are not on board. The superhero organization in town turn out to be a bunch of jerks. Danny's best friend does not deal with her transition well, to put it mildly. She doesn't know how to handle her super powers or the varied and conflicting expectations of those who know she has them. And, of course, there's a cyborg supervillain on the loose.
The action sequences are great; the emotional sequences are even better; the characters climbed right into my heart and brain. And the second book is out! Sovereign, here I come.
The Epic Crush of Genie Lo by FC Yee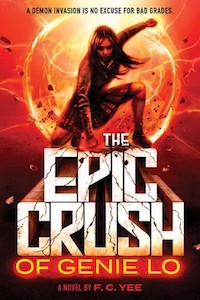 Meet Genie Lo. She's a Type A, hard-working high school student with her eye on the prize: a scholarship to a Top Tier college, then a job with lots of money. She's got an admissions counselor, her extra curriculars, and a plan, and nothing is going to stand in her way. Except, of course, for this new guy who shows up, claims to be the reincarnation of the Monkey King from Chinese mythology, and tries to convince her that she has to help him fight demons.
This book is incredible amounts of fun. Genie's a great protagonist, and her journey from disbelief and anger at this intrusion into her life into acceptance of her situation and her powers works on multiple levels. The demon battles are satisfying and well-paced, and Genie's emotional struggles are believable and appropriately complex. Sun Wukong, the Monkey King and Genie's irritating-but-also-attractive new crush, brings a trickster sense of humor leavened with the occasional gravitas one might expect from an ancient reincarnated being. Genie's friends and family add depth both to her character and to the plot itself.
How many ways can I convince you to pick up this book? If you're looking for great Asian-American representation in YA: pick it up. If you're looking for an action-packed summer read with a no-nonsense heroine: pick it up. If you're looking for a mythologically-inspired fantasy story: pick it up. If you're looking for a reluctantly-romantic love story: pick it up! Seriously, pick it up.
And that's my story for the day! If you're interested in more science fiction and fantasy talk, you can catch me and my co-host Sharifah on the SFF Yeah! podcast. For many many more book recommendations you can find me on the Get Booked podcast with the inimitable Amanda.
May the odds be ever in your favor,
Jenn