Happy Friday, ghouls and galactic invaders! Today we're talking Persona and Cast in Shadow, plus A Discovery of Witches casting, fantasy paraphernalia, and more.
---
Sponsored by All Rights Reserved, the chilling new YA science fiction story from Gregory Scott Katsoulis. Check out the video trailer here!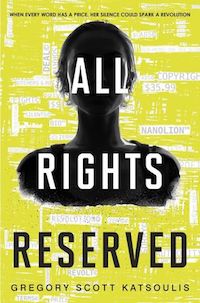 From the moment she turns fifteen, Speth Jime must pay for every word she speaks. She knows the consequences of falling into debt, and can't begin to imagine the pain of having her eyes shocked for speaking words she's unable to afford.
But when Speth's friend Beecher commits suicide rather than work off his family's crippling debt, she discovers she has no way to speak out without sending her family into Collection. Backed into a corner, Speth finds a loophole: rather than say anything at all, she closes her mouth and vows never to speak again.
Speth's unexpected defiance of tradition sparks a media frenzy, inspiring others to follow in her footsteps, and threatens to destroy her, her family and the entire city around them.
---
Do you need more stories for your ears? Here's a very solid list of 13 sci-fi/fantasy audiobooks (including many you'll recognize as Book Riot favorites).
Genre fiction is full of magical pets, and Yaika has a few favorites in particular from the comics world. (Lying Cat!)
What beer would you pair with Octavia Butler's Dawn? Alex has thoughts on this and several other excellent sf/f book and brew pairings.
In TV news, the adaptation of Discovery of Witches has cast its leads! Matthew Goode (Downton Abbey) will play vampire hero Matthew Clairmont, and Teresa Palmer (who I'm not familiar with) will play Diana Bishop. The show starts filming this fall, so there's a good while to wait yet to see how well they pull it off.
And in the most meta adaptation news of ever, there will soon be Galaxy Quest: The TV Show. By Grabthar's Hammer, I have so many questions. Is the plot the "actors" remaking the "TV show"? Will Tony Shalhoub be back? Please excuse me while I take a moment to salute Alan Rickman.
And finally: do you need a Westeros beer-cap map? Or a Narnia infinity scarf? Or any number of other fantasy-maps-inspired items?!
Today's reviews include a near-future political thriller and a fantasy procedural, because what's not to love about genre mash-ups?
Persona by Genevieve Valentine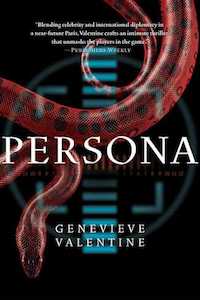 If you crossed America's Next Top Model with the United Nations, you'd get something like the International Assembly. Delegates called Faces, selected based on their general attractiveness and media appeal, appear to be ambassadors for their country and the wheelers and dealers of international policy. In reality, it's their handlers who pull the strings and dictate, well, everything. What legislation get passed, what they wear, who they have relationships with — you name it, it's supervised by the people behind the scenes. Our heroine Suyana is the Face for the United Amazonia Rainforest Confederation, and someone is trying to murder her.
Part near-future meditation on paparazzi and politics and part thriller, Persona reads a bit like a fever-dream in some parts. As Suyana struggles to figure out who she can trust and why she's being targeted, we also start to understand that she's far more than a clothes-horse and pretty face, and that she might be behind a conspiracy of her own. The timeline flashes back and forth between her present, on the run, and the events that led her to that present. It's fast-paced, well-plotted, and the world-building is twisted just enough from our actual world to be eerie as well as familiar. Bonus: the sequel, Icon, is now out in paperback! Further bonus: if the Next Top Model, clothes-horse part of that particularly speaks to you, Valentine does amazing red carpet recaps on her blog.
Cast in Shadow by Michelle Sagara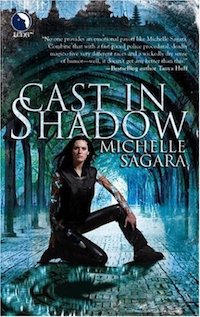 We talked a bit about urban fantasy in a previous newsletter, and it reminded me that Cast In Shadow is an alternate-world urban fantasy, which is an interesting piece of overlap to contemplate.
Kaylin is part of the police force, or Hawks, of the city of Elantra. She grew up rough (VERY rough), fled from her past, and changed her name, and while her manners and attitude aren't much, she's made a name and a place for herself. Her major worries are hiding her magical abilities from people who don't need to know about them (so, basically, everyone) and trying to be on time for her shift, until a string of child-murders in her old neighborhood come to light. The method and MO are the same as murders that went unsolved when she was young, and now she has to figure out who is doing it — and what it has to do with her.
The world-building of Elantra is intricate and many-layered. There are actual hawk-people, dragon-people, and lion-people in addition to human-people; there are competing organizations; there are political machinations afoot. And then there are Kaylin's own twisted history and complicated personal relationships, past and current. It's a lot to take in, but Sagara juggles it well — and this is just the first in a 10+ book series, with the 13th book due out in January of 2018. If you're looking to dive into a new fantasy series with a cranky, lovable, frequently violent heroine and a whole lot of details to get lost in, you'll want to give this one a whirl.
That's a wrap: Happy reading! If you're interested in more science fiction and fantasy talk, you can catch me and my co-host Sharifah on the SFF Yeah! podcast. For many many more book recommendations you can find me on the Get Booked podcast with the inimitable Amanda.
May the Force be with you,
Jenn