Hello there, Kid Lit friends!
If there's one big trend in STEM I've seen this summer, it's been coding. There has been so much buzz for coding-themed books!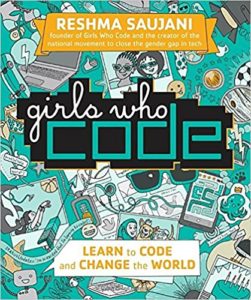 Reshma's Girls Who Code book is packed with information about how to begin coding. Written in a relatable style with lots of graphics and illustrations, this book starts at the basics and gives clear definitions for coding terminology. What I liked most about this book was the clarity of how coding could be used for practical uses, like for apps or games.
---
We've got a $200 Powell's gift card to give away! Go here to enter, or just click the image below:
---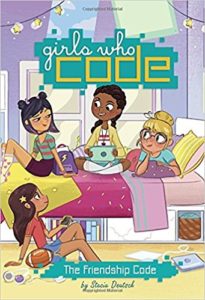 Published in conjunction with Girls Who Code is The Friendship Code, a chapter book about four friends who start a coding club at school. Lucy is so excited about a new school year so she can do amazing things at coding club. But the club is moving so slowly; how can Lucy gain the skills she needs to make her app?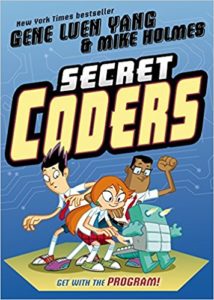 Secret Coders by Mike Holmes and Gene Luen Yang is a terrific graphic novel series for all coding enthusiasts. The series is set at Stately Academy, a school where the founder left plenty of mysteries for it's enterprising students to solve. Each book dives deep into some aspect of coding. There are currently three books in the series with a fourth, Secret Coders: Robots and Repeats, coming out on October 3rd.
Click'd (Disney-Hyperion, 9/5) by Tamara Ireland Stone is a middle grade book set at CodeGirls summer camp. Allie Navarro builds an app called Click'd which pairs users based on common interests and sends them on a fun scavenger hunt to find each other. The app is a hit; it goes viral. But when Allie discovers that the app has the potential to reveal secrets of the users, Allie races to find the glitch in the coding before anyone finds out.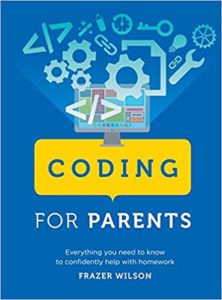 For parents who struggle to keep up with technology, Coding for Parents is a great primer, organized by grade and age, and clearly defines coding terminology and usage with instructional diagrams and illustrations.
New Releases!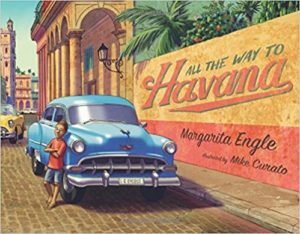 All The Way To Havana (Henry Holt & Company, 8/29) by Margarita Engle, illustrated by Mike Curato, is a beautiful picture book about a boy and his family setting off to visit a new baby cousin for his "zero-year birthday". However, the car is rickety old vehicle with parts that have been swapped out, rusted, or fixed with wire, tape, and metal scraps. Will they make it to Havana?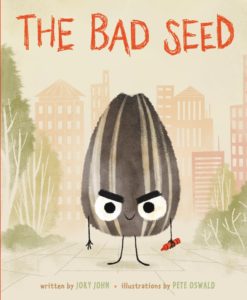 The Bad Seed (HarperCollins, 8/29) by Jory John, illustrated by Pete Oswald, is a picture book about a seed with a bad reputation. He lies. He cuts in line. He never washes his hands. Can he repair his reputation, or will he be a bad seed forever?
The Adventures of Caveboy and Caveboy Is Bored (Bloomsbury, 8/29) by Sudipta Bardhan-Quallen, illustrated by Eric Wight, is a perfect chapter book for emerging readers. In the first book, Caveboy wants to be the greatest baseball player ever, until his club breaks. While searching for a new one, he also makes a new friend and learns what it means to take care of each other. In Caveboy Is Bored, Caveboy can't find anything to do. Everyone is busy… except for his annoying sister.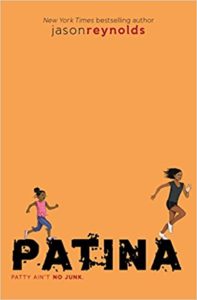 Patina by Jason Reynolds (Atheneum, 8/29) is the highly anticipated second book in Jason's track series. His first book, Ghost, was a runaway hit and a National Book Award Finalist. Patina is struggling to keep up with the track team. Between trying to keep her grade point average up at the fancy new school she's going to, watching over her little sister, and taking care of her mom who is diabetic and wheelchair bound, can Patty keep up with everything and still have energy to train?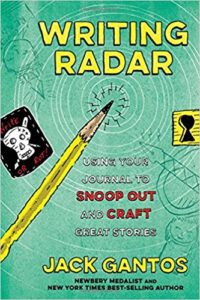 Writing Radar: Using Your Journal to Snoop Out and Craft Great Stories by Jack Gantos (Farrar, Straus and Giroux, 8/29) is geared for middle grade students looking for writing inspiration. Who better to turn to than legendary storyteller Jack Gantos? The opening line is, "I'm a writer and I'm on your side." What follows are a series of stories and tips to encourage young people to establish good writing habits as they create, revise, and perfect their stories.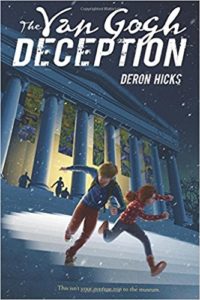 The Van Gogh Deception (HMH, 8/29) by Deron Hicks is a spell binding mystery thriller about a young boy that has forgotten almost everything about himself. He was found sitting in the National Gallery in front of a Degas sculpture and knows oddly detailed facts about artists, but he can't remember his own name. The book has QR codes sprinkled throughout so readers can look up the referenced paintings, and the end papers have beautiful images of color Van Gogh paintings.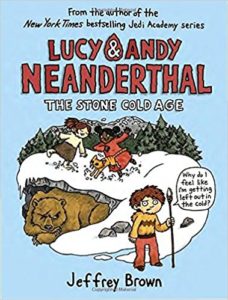 Lucy and Andy Neanderthal: The Stone Cold Age (Random House) by Jeffrey Brown is the second in the Lucy and Andy Neatherthal graphic novel series. In this one, the protagonists have to deal with their greatest challenge yet: humans!
Ebook Deals!
Surviving the Applewhites by Stephanie S. Tolan is only $1.99! A perfect time to get caught up with the Applewhites before the third book in the series, The Applewhites Coast to Coast, comes out on October 17th.
Betsy-Tacy by Maud Hart Lovelace is $1.99. Never heard of it? Meg Ryan, portraying an indie bookstore owner, recommended this book to a little girl in the movie You've Got Mail.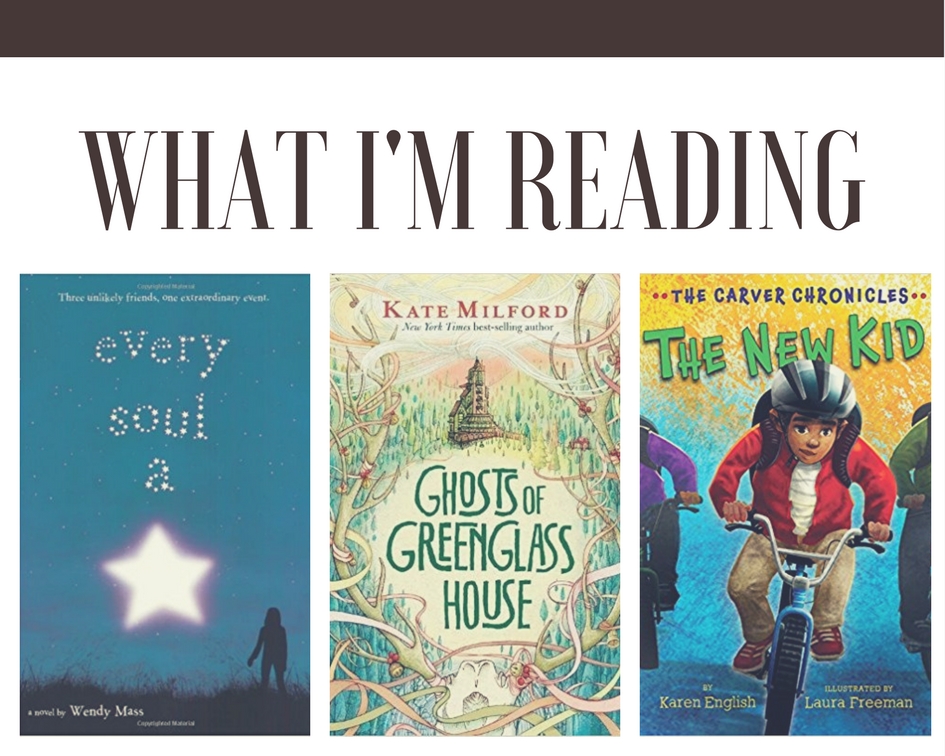 That's it for this week! I just finished reading Every Soul a Star by Wendy Mass, which is a great post-eclipse book for upper middle grade kids. I'm in the middle of Ghosts of Greenglass House by Kate Milford (HMH, 10/3/17), and The New Kid: The Carver Chronicles by Karen English (HMH, 12/5/17). What children's books are you reading and enjoying this week? Find me on Twitter at @KarinaYanGlaser, on Instagram at @KarinaIsReadingAndWriting, or email me at karina@bookriot.com.
Until next time,
Karina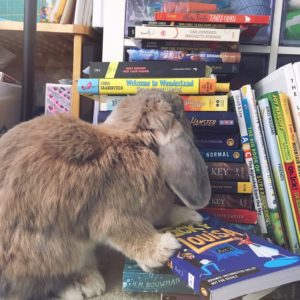 Izzy picking out what book I should read next.
*If this e-mail was forwarded to you, follow this link to subscribe to "The Kids Are All Right" newsletter and other fabulous Book Riot newsletters for your own customized e-mail delivery. Thank you!*
SaveSave
SaveSaveSaveSave