Hello Kid Lit friends!
Today I'm excited to talk to you about one of my favorite things… children's book subscription boxes. They are so fun and make awesome gifts or book mail for the bookworms in your life! If you're unfamiliar with these magical things, basically they are curated boxes that arrive at your doorstep filled with hand-picked books and other related items. Here are some of the great children's book subscription boxes I've come across.
---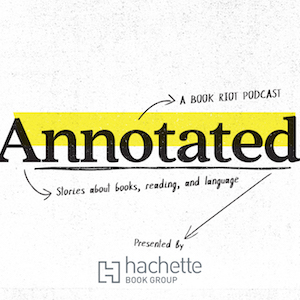 Sponsored by Annotated, a Book Riot Podcast presented by Hachette Book Group
Why Aren't Bookstores Extinct? In 1995, there were more than 7000 independent bookstores in the U.S. By 2008, there were just over 1400. Everyone was proclaiming the death of bookstores, and independent bookstores. But then something strange happened. Over the last nine years, the number of indie bookstores has risen 64%. This episode of Annotated looks at how independent bookstores first survived, then figured out how to thrive, in the age of Amazon.
---

The Reading Bug is an amazing independent children's bookstore in San Carlos, California, and their Reading Bug Box is a subscription box containing the best in children's literature and other educational extras. You can purchase boxes for different ages and stages of development, including newborns, toddlers, early readers, and readers (middle grade). The prices start at $27.99 per box per month plus $3 shipping for the United States, with discounts for prepaying for six and twelve months. Below are some examples of what bookish goodies might be inside!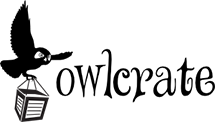 OwlCrate JR.
This subscription box is geared toward 8-12 year olds, and each themed box comes with a book plus a bundle of unique items. Boxes are $27.99 plus shipping, with discounts if you prepay for three or six months. Here are some photos from their previous boxes – aren't they beautiful?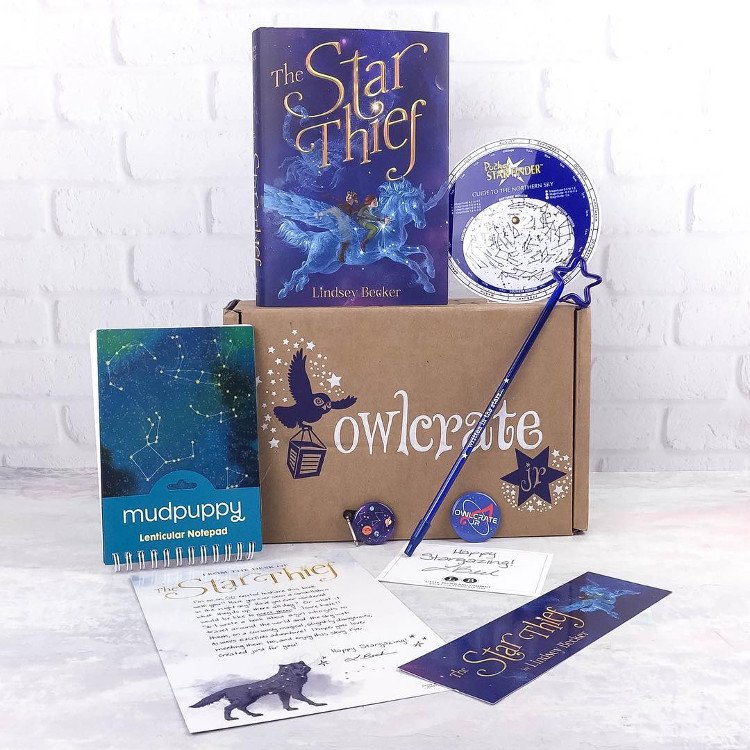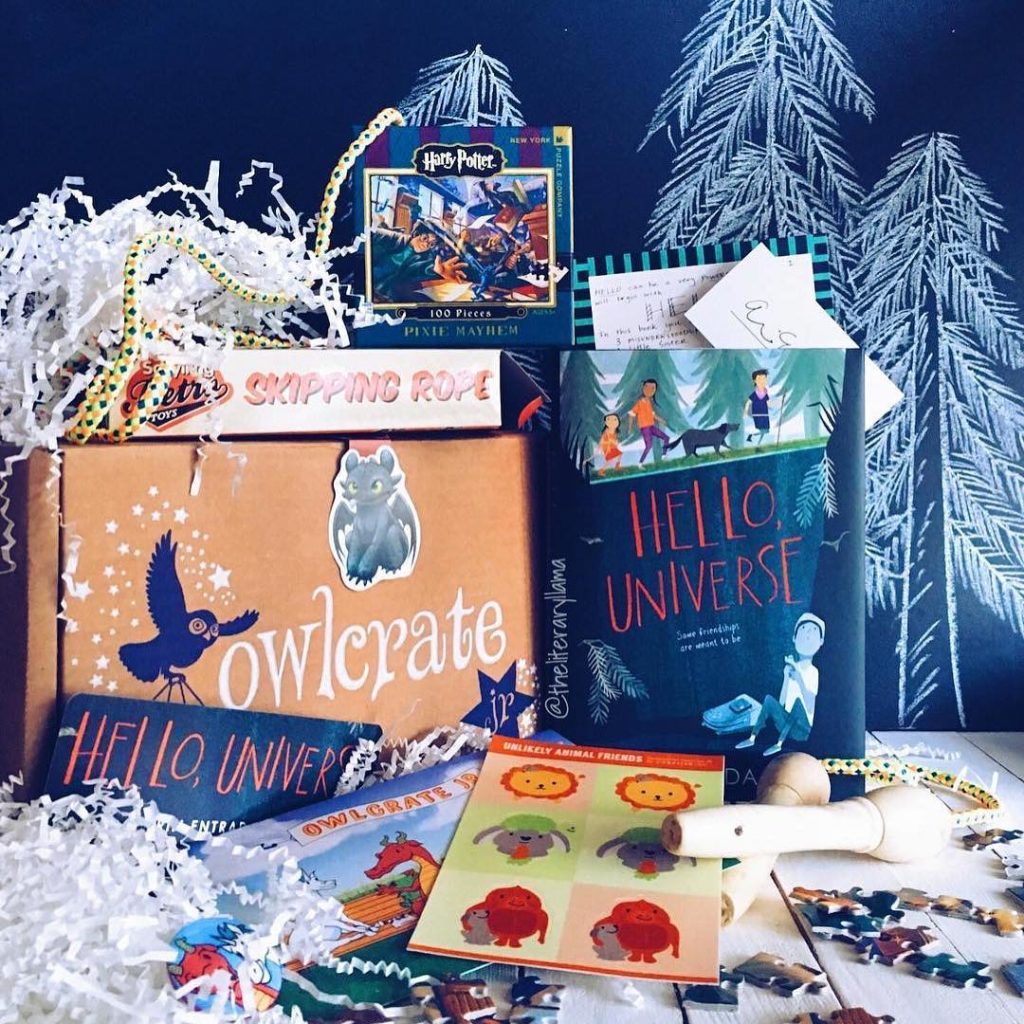 BOOX is Powell Bookstore's subscription picture book club. Each box features one new hardcover picture book and an additional hardcover staff favorite, along with other exciting goodies. It costs $35.95 and the price includes shipping and handling inside the United States.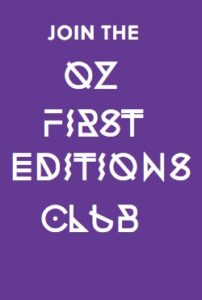 Oz First Editions Club, Lemuria Bookstore
Each month, a signed first edition of a picture book and a middle grade book are selected by the children's book buyer at Lemuria Bookstore in Jackson, Mississippi. The cost is the price of the book, and the book can be picked up at the store or shipped. The July 2017 picture book pick was Life by Cynthia Rylant, illustrated by Brendan Wenzel, and the middle grade pick was Almost Paradise by Corabel Shofner (two super awesome choices!).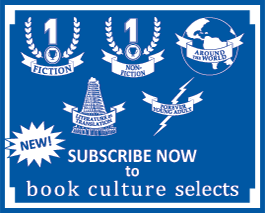 Book Culture is an independent bookstore in New York City with three locations in Manhattan. Their children's book subscription service is called Book Culture Selects: Picture Books, and the selections are handpicked by their dedicated children's booksellers. Prices start at $70 for a quarterly subscription (4 books per year). (P.S. They also have subscription boxes for adults, including Poetry, Life Stories, Literature in Translation, and New and Noteworthy Fiction!)

Booklandia is a monthly subscription box with bilingual and Spanish children's books. Prices start at $25 for board books and $27 for picture and chapter books.
In the News!
Have you heard that a new Maurice Sendak book has been discovered? Read all about it in Publisher's Weekly. Presto and Zesto in Limboland will be published in the fall of 2018 by Michael di Capua Books/HarperCollins.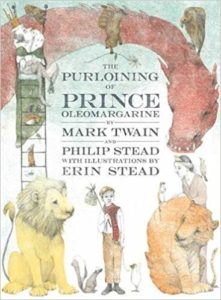 Speaking of discovered manuscripts, how excited are you for The Purloining of Prince Oleomargarine written by Mark Twain, reimagined by Philip Stead, and illustrated by the amazing Erin Stead? This will be released on September 25 by Doubleday Books for Young Readers, and I cannot wait. It will be 152 pages long, and when Philip Stead spoke at SLJ's Day of Dialog back in May he said the length allowed him and Erin to explore different ways of telling the story. Erin had space to experiment with portraiture, and Philip puts himself into the book to argue with Mark Twain about how to tell the story. This book is profiled in so many places, including The New York Times and Bleeding Cool.
New Releases!
There are some great releases on Tuesday, so keep a look out for these!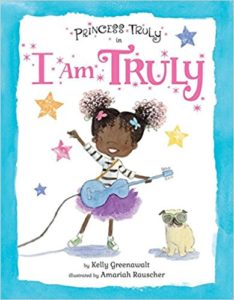 Princess Truly in I Am Truly by Kelly Greenawalt, illustrated by Amariah Raunchier (July 25, Orchard Books)
This picture book looks so sweet! Here is the Goodreads description: "Princess Truly is strong and confident, beautiful and brave, bright and brilliant. She can do anything she sets her mind to…

I can fly to the moon
And dance on the stars.
I can tame wild lions…
And race fast cars.
Brimming with warmth and color, Princess Truly's rhythmic rhyming adventures are a celebration of individuality, girl power, and diversity. Her heartfelt story is a reminder to young girls everywhere that they can achieve anything if they put their minds to it…and dream big!"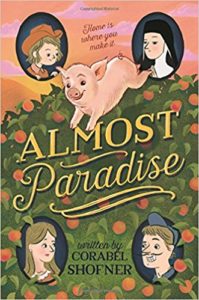 Almost Paradise by Corabel Shofner (July 25, Farrar, Straus and Giroux)
When I first read this middle grade book, what struck me first was the pitch perfect voice of Ruby Clyde Henderson. She has a wonderful way with words and phrases, and I kept looking forward to hearing what would come out of her mouth next. I loved this book, and (as a bonus) isn't this cover amazing? Here is the description from Goodreads: "Twelve-year-old Ruby Clyde Henderson's life turns upside down the day her mother's boyfriend holds up a convenience store, and her mother is wrongly imprisoned for assisting with the crime. Ruby and her pet pig, Bunny, find their way to her estranged Aunt Eleanor's home. Aunt Eleanor is a nun who lives on a peach orchard called Paradise, and had turned away from their family long ago. With a little patience, she and Ruby begin to get along―but Eleanor has secrets of her own, secrets that might mean more hard times for Ruby. Ruby believes that she's the only one who can find a way to help heal her loved ones, save her mother, and bring her family back together again. But being in a family means that everyone has to work together to support each other, and being home doesn't always mean going back to where you came from."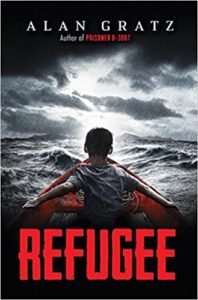 Refugee by Alan Gratz (July 25, Scholastic Press)
This book has been getting so much buzz! Here's the description: "JOSEF is a Jewish boy living in 1930s Nazi Germany. With the threat of concentration camps looming, he and his family board a ship bound for the other side of the world . . . ISABEL is a Cuban girl in 1994. With riots and unrest plaguing her country, she and her family set out on a raft, hoping to find safety in America . . . MAHMOUD is a Syrian boy in 2015. With his homeland torn apart by violence and destruction, he and his family begin a long trek toward Europe . . . All three kids go on harrowing journeys in search of refuge. All will face unimaginable dangers — from drownings to bombings to betrayals. But there is always the hope of tomorrow. And although Josef, Isabel, and Mahmoud are separated by continents and decades, shocking connections will tie their stories together in the end."
That's it for this week! Right now I'm reading My Brigadista Year by Katherine Paterson (10/10, Candlewick Press) and Karma Khullar's Mustache (8/15, Simon and Schuster Books for Young Readers). What children's books are you reading and enjoying this summer? Find me on social media and let me know. I'm on Twitter at @KarinaYanGlaser, on Instagram at @KarinaIsReadingAndWriting, or send me an email at karina@bookriot.com.
xoxo,
Karina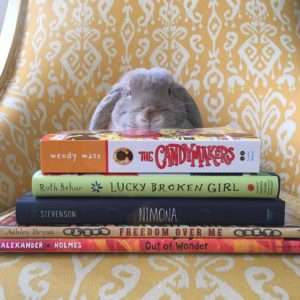 Izzy's book stack! What are you reading?
*If this e-mail was forwarded to you, you can follow this link to subscribe to "The Kids Are All Right" newsletter and other fabulous Book Riot newsletters for your own customized e-mail delivery. Thank you!*