Welcome back to In The Club, a newsletter of resources to keep your book group well-met and well-read. Today we've got a spotlight on geographic book lists, in addition to news from far and wide.
---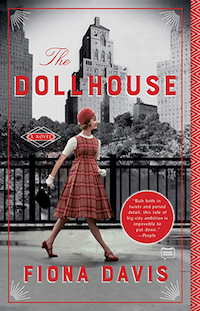 This newsletter is sponsored by The Dollhouse by Fiona Davis.
Fiona Davis's stunning debut novel pulls readers into the lush world of New York City's glamorous Barbizon Hotel for Women, where in the 1950s a generation of aspiring models, secretaries, and editors lived side by side while attempting to claw their way to fairy-tale success, and where a present-day journalist becomes consumed with uncovering a dark secret buried deep within the Barbizon's glitzy past.
---
If at first book club does not succeed, try try again? Adiba chronicles her failed attempts to find her book group match, stories which will probably sound very familiar. As always, the trick is getting a good discussion going and getting a good schedule going, and it can take a while to find both!
For those who like their book club over wifi, there's a burgeoning romance book discussion happening on Twitter at #RomBkLove. As I type this people are talking about their favorite sexy historicals. This is the kind of online book discussion I love — it's less about trying to have a meaningful conversation on one particular title (very difficult even with threading), and more about talking your way into a genre/topic.
Relaunching in 5, 4, 3 … Zoella's book club is back! I basically only know Zoella through book publishing news (the UK bookseller trades in particular love to gripe/discuss/talk about her). While the list for 2017 could stand to be more inclusive, it's got some excellent authors on it (Adam Silvera, Jennifer Mathieu).
In adaptation news, so many projects are in the pipeline! Peter Pan, Vanity Fair, and Little Women are all getting treatments, and we might actually get The Man Who Killed Don Quixote sometime in the next, oh, decade?
The history of women's book clubs is more politically charged than you might think. This is an interesting look at how we got from Anne Hutchinson in the 1630s, to the consciousness-raising groups of the '60s and '70s, to today's modern (and oft-derided) book club.
For our food-oriented groups (which is all of you, right??) here are some indulgent pairings suggestions that are blowing my mind AND making me drool (The Odyssey and lamb kebabs!).
And last but not least, let's get geographic! I love a good regional reading list, and these four are some of my recent favorites.
– Indigenous authors in Canada
– LGBTQ Latin American authors
– 100 Must-Read Australian books
– Books to understand Egypt
And that's a wrap: Happy discussing! If you're interested in more science fiction and fantasy talk, you can catch me and my co-host Sharifah on the new SFF Yeah! podcast. For many many more book recommendations (including the occasional book club question!) you can find me on the Get Booked podcast with the inimitable Amanda.
More Resources: 
– Our Book Group In A Box guide
– List your group on the Book Group Resources page
Writers on the books that helped them come out.