Hello my fellow mystery fans! There's a literacy ambassador pig and it should come as a shock to no one that I love everything about this.
---
Sponsored by Dr. Knox by Peter Spiegelman, new in paperback from Vintage Crime Black Lizard.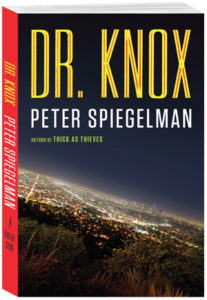 A gripping thriller about a doctor with a powerful humanitarian impulse and an unhealthy appetite for risk. Dr. Adam Knox, a former aid worker in war zones and disaster areas, runs a clinic near LA's Skid Row and makes house calls—no questions asked—on those too famous or too criminal. When his search for an abandoned boy's mother leads him into the crosshairs of a human trafficking ring run by the Russian mob and on a collision course with a powerful and ruthless family, it threatens all—and everyone—that Dr. Knox holds dear.
---
My favorite Sherlock!
A Study In Scarlet Women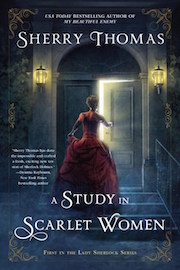 (Lady Sherlock #1) by Sherry Thomas: A gender swapped Sherlock Holmes that is brilliantly well thought out and executed. I don't want to get into the plot because there was something quite wonderful about how it all unfolds, especially if you go into the book knowing nothing about the plot like I did. I will say that I loved everything about Charlotte Holmes, from her refusing to accept her place in society, to her taking drastic measures to ensure she doesn't live a life she doesn't want. Bonus points for the title that you'll realize means more than one thing… Oh, and Kate Reading does a great narration on the audiobook–really brought Charlotte Holmes to life.
Calling all cozy mystery fans:
Murder at the Male Revue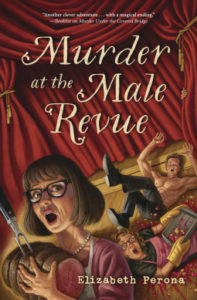 (A Bucket List Mystery #3) by Elizabeth Perona: A group of seventy+-year-young women with bucket lists seem to also have the Jessica Fletcher syndrome of always finding themselves around a murder. This time a fun event of male strippers–catered by Mary Ruth and attended by the ladies to get one of those bucket list items crossed off–is cut short by the stabbing of the fundraiser's sponsor, Camille Ledfelter. Charlotte (being a fan of mysteries) doesn't care that the police find her to be a thorn in their side–warning her to stop trying to investigate–she just can't stop herself. Nor wants to, really. When it appears Ledfelter's nephew is going to be the prime suspect, Charlotte goes into full-on investigation mode, dragging Francine and some of the other ladies into her schemes to get closer to the truth of who stabbed Ledfelter. The opening Magic-Mike-gone-wrong scene is funny and Charlotte, Francine, and the other ladies are wonderful characters who make me believe my dream of one day becoming a private detective while living in a nursing home can come true.
A little Q&A: Kellye Garrett (I give authors I'm excited about five questions and let them answer any three they'd like.)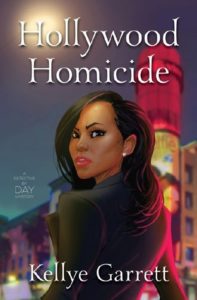 You know those books that from page one you already love the main character and know you're only going to love them even more as you get deeper into the story? That's how I felt about Dayna "Day" Anderson. She finds herself in amateur sleuth territory now that she's given up on the Hollywood dream, is broke, and needs to find money fast to save her parents' home. Day is hilarious, smart, has a great group of friends–and my favorite part is she puts the amateur in amateur sleuth! Being that Hollywood Homicide (Midnight Ink, Aug 8th) is the first in the series I'm so happy that I'll have more Day in my life.
Here's Kellye Garrett: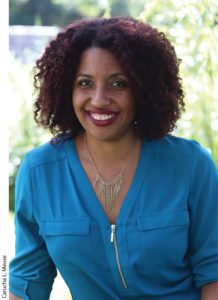 What would you like to see more/less of in the mystery genre? "Granted, I'm super biased but I would love to see more authors of color. Last summer's Sisters in Crime Diversity Report listed 69 black writers who were published. To clarify, that isn't the number of black writers traditionally published last year. That is the number who published by a publishing company ever. As in, throughout the entire history of the world there have been only 69 black mystery writers traditionally published in the United States. And we have it better than other marginalized groups.
When you've always been represented, you don't realize how much representation matters. I love what Shonda Rhimes has done with Scandal and How to Get Away with Murder where the shows are extremely diverse and the lead happens to be black. I would love to see that same idea move over to mystery novels."
If you were forced to live the rest of your life as one of your characters who would it be? "I should say my main character Dayna since she's basically a younger, prettier, more over-the-top version of me. But I'm going to go with her uber-confident best friend Sienna, who spends her days being fabulous, saying whatever she wants, and never, ever gaining weight. Her life goal is to set a World Record for wearing most days in a row wearing red and she could give Beyonce a run for her money when it comes to doing things in heels. And, best of all, Sienna's also a super supportive ride-or-die friend."
If you were to blurb your most recent/upcoming book (à la James Patterson): "Hollywood Homicide is my best book in over 20 years! Better than the stories that I used to write as a kid that I would force my mom to read and tell me were great."
Thanks Kellye! Hollywood if you're reading this newsletter Hollywood Homicide would make a great TV series so someone get on that–Please, and thank you!
Suspense:
Every Last Lie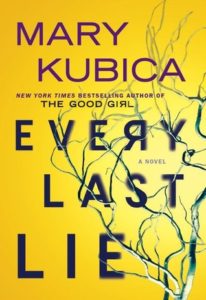 by Mary Kubica: Clara Solberg's husband, Nick, dying in a car accident is only the first string pulled in a spectacular unraveling of her life. Not only is she left widowed with a four-year-old and a newborn baby but her daughter Maisie is now having meltdown moments that make Clara question whether Nick's accident was just his speeding as the police believed or if there was another car involved. The brilliance of this novel is how Kubica builds suspense by taking us into Clara's daily life, starting with Nick's death, and alternates the chapters with Nick's daily life starting in the final months of Clara's recent pregnancy as he struggled to keep the life they'd built from unraveling and Clara from finding out.
Browse all the books recommended in Unusual Suspects previous newsletters on this shelf. And if you like to put a pin in things here's an Unusual Suspects board.
Until next time, keep investigating! And in the meantime come talk books with me on Twitter and Litsy–you can find me under Jamie Canaves.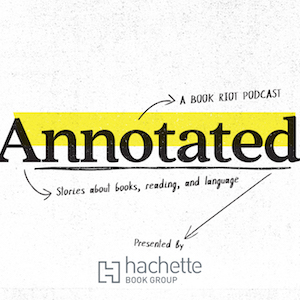 And don't forget to check out our newest podcast, Annotated.
The first episode, "Is it 1984 yet?" traces the recent rise of the not-new 1984 to the number one spot on Amazon's best-selling books list. Jeff and Rebecca explore the backstory of 1984, from how it became stock high school reading to its CIA-supported appearance on the silver screen, to how, seemingly, a January 22nd news interview thrust it back into our collective consciousness as the example of a political nightmare. To listen, visit bookriot.com/annotated or search for Annotated in Apple Podcasts, Google Play, or your podcatcher of choice.