Happy Friday, nerd-friends and geek-pals! This week we're looking at supernatural parenting a la The Changeling and The Stars Between Us, maps in fantasy novels, some queer SF/F to close out Pride month, and a few other items that tickled my fancy.
---
This newsletter is sponsored by Libby.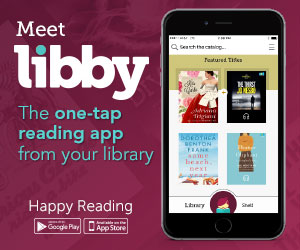 Meet Libby, a new app built with love for readers to discover and enjoy eBooks and audiobooks from your library. Created by OverDrive and inspired by library users, Libby was designed to get people reading as quickly and seamlessly as possible. Libby is a one-tap reading app for your library who is a good friend always ready to go to the library with you. One-tap to borrow, one-tap to read, and one-tap to return to your library or bookshelf to begin your next great book.
---
For my fellow Ninefox Gambit fans: What's your Hexarchate faction? It might not be the next Hogwarts House quiz, but I'm pretty satisfied with my results. (Liozh, natch. Team Heresy!)
Are maps in fantasy novels necessary? One of our Book Riot folks doesn't think so — or at least, not all the time. This is one of those moments where you realize how different every reader is, because Clay uses the maps in novels very differently from me. I tend to look at them to get an overall idea of the geography before I start reading, and to appreciate them as a piece of illustrative art; I don't think I've ever gone back to trace a route.
We talk about LGBTQ+ SF/F pretty regularly here, but I am not one to pass up the opportunity of Pride month to talk about it more! Have a round-up, with remarkably minimal overlap and lots of personal favorites:
–  Queer SF/F favorites from Unbound Worlds
– 9 Influential LGBTQ SF/F Authors from The Portalist
– LGBTQ+ Characters in YA SF/F from the Metropolitan Library
– A thoughtful look at writing fantasy from the transgender perspective on Foreword Reviews
Want to support diversity in your favorite genres? There's a scholarship you can help fund via the The Speculative Literature Foundation. The foundation supports "new and emerging writers from underrepresented and underprivileged groups," and hopes to continue issuing grants over the next five years.
If you're following the Star Trek: Discovery news, you'll be delighted to hear that there is finally an air date: September 24. They'll be showing the premiere on both CBS and CBS All Access, before it switches entirely to All Access. I am still telling myself that I'll decide after I see the preview if I'm signing up or not, but it's hard to resist a line-up that includes Michelle Yeoh, Sonequa Martin-Green, and Jason Isaacs.
There have been a recent spate of speculative novels that hinge around fertility and parenthood (with more on the way), and today we're looking at two of them.
The Space Between The Stars by Anne Corlett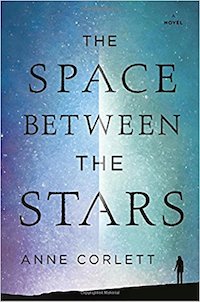 Veterinarian Jamie Allenby has a quiet life on a remote colony planet called Solitaire, and that's just the way she likes it. Then a virus sweeps from planet to planet — a virus projected to kill 99% of all humans who catch it. After the shock of survival, all she can think of is getting to the nearest planetary hub of civilization and then back to Earth, to her childhood home. She manages to find a few other survivors and a spaceship captain to get them off Solitaire — and that's just the beginning of her story.
Procreation is a deeply embedded theme in this space adventure. Jamie ended up on Solitaire in the first place following a miscarriage, and the virus might also affect fertility — which means that not only is the human race decimated, but it might never recover. Corlett holds up a warped mirror to current issues of overpopulation, racism, class, and governance, and the reflection ain't pretty. For all that, it's also a remarkably quiet, slow novel; while there are a few action sequences, the novel primarily revolves around the internal life and small but pivotal choices of its characters. Think something like Station Eleven but in space and in one timeline. A deceptively straight-forward read, it will stay with you for longer than you might expect.
The Changeling by Victor LaValle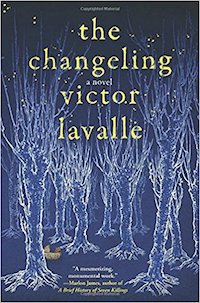 Before I say anything else about this book, let me get it out of the way: I loved it. Now that I've declared that, I have to tell you that this is a very hard book to review because of one particular scene, and reviewers seem split on whether to describe it or not. I went into the book knowing absolutely nothing about the plot, which made it incredibly shocking and powerful, but I also believe in being prepared for things that might mess your brain up for the rest of the day (or week, or month…). It's a conundrum, and a tough one. So I'm splitting the difference. If you want to go in with a clean slate, all you need to know is that this novel is a wickedly effective blend of horror and fantasy, in which a young Black couple discover that parenting is nothing like they thought it would be — and not for the usual reasons. (And you can stop reading this review now, spoilers/warnings hereafter!)
If you'd like details: The Changeling follows Apollo Kagwa, a book dealer trying to make ends meet. We learn just enough about his childhood to understand why being a dad is simultaneously so important and so difficult for him. He falls for a librarian named Emma, they get married and get pregnant, and everything seems to be going well enough — until the day that Emma shackles him to a chair, kills their baby, and then disappears. But that's just the first third of the book; Apollo soon discovers that nothing is as it seems, and his quest through New York City takes him to places no parent ever wants to go. It's bloody, it's terrifying, and not just because of the monsters going bump in the night. Rather, not just because of the supernatural monsters; there are human monsters involved as well.
LaValle has always been good at going to the dark places in the human psyche and lacing in the fantastical. That skill is the reason I pick up each and every book he writes. In this book he's pulling no punches, and his storytelling is top-notch. If you're ready to dive into the deep end, pick it up ASAP.
Bonus: If you haven't read him before, here's a great piece on where to start.
And that's a wrap. Happy reading! If you're interested in more science fiction and fantasy talk, you can catch me and my co-host Sharifah on the new SFF Yeah! podcast. For many many more book recommendations across the board you can find me on the Get Booked podcast with the inimitable Amanda.