Hey hey, love lovers!
How has your Pride Month been going? I'm still recovering from last week's Librarian Con (AKA the ALA Annual Conference), which didn't help with the whole endless TBR thing. 
---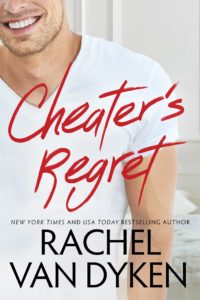 Sponsored by Amazon Publishing
Austin's dreams of domestic bliss involved watching Netflix and eating hot dogs with the love of her life. But then he cheated on her. And dumped her—as if the whole thing was her fault. To maintain her pride and restore her sanity, she decides to get revenge.
Thatch, a plastic surgeon straight out of residency, knows he ruined the best thing that ever happened to him. But not all cheaters are created equal. He got himself into this messed-up situation—true—but he has his reasons for what happened, and he'd do it all again to protect Austin.
---
People all over have been talking about romance over the past couple weeks.
Just recently, The Book Voyagers put out a list of single parents in romance. It's pretty great, especially if your catnip involves strong women, wild kids, and sudden parenthood. It's also got handy dandy indicators of books with queer characters or by authors of color. 
Entangled publishing is having a huge sale! Check it out.
Over on Heroes and Heartbreakers, Robin discussed whether romance novels needed trigger warnings. If you read my last issue of Kissing Books, you know I am totally in that camp. Others may decide not to, but I will do my best to point out if something has something that needs a massive content warning, like rape or suicide. What other situations do you like to have prior warning of in your stories?
Ria Cheyne at Public Books wrote about an oldie-but-goodie that really marks the way a romance author can write good disability rep. I haven't read the book in question, but it definitely went on my list once I read this article.
Not book-related, but it was interesting reading this Mary Sue article about The Big Sick statistically doing better than Transformers this weekend. It probably says more about Transformers, really, but it's nice to see romantic comedies being well-received yet again. Maybe there's hope for the world beyond Passionflix yet. Let's see what happens when it's out of limited release.
And just this past weekend, Queen Bev was the subject of a piece in Salon about historical fiction and how it really went down.
Over on Book Riot, you told us your favorite steamy romances, and boy were your choices good ones!
And speaking of historical fiction, I have some particularly delightful historical fiction recs for you this week!
The Day of the Duchess, Sarah MacLean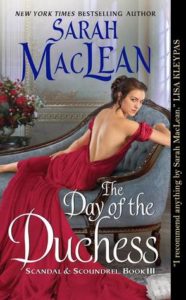 Happy Duchess week, y'all! I'll bet some of you suddenly came down with a terrible cold on Tuesday or Wednseday of this week, but if you haven't yet, this book is for you! I have read the previous two books in the series, but I suck at remembering things I've read and can honestly say that as long as you're okay with discovering *gasp* that the couples from previous books end up together, you can totally read this without having read the others. Then you'll want to read the others because the Soiled S's are a riot and you'll definitely want more of them.
Here, Sarah MacLean answers the question all of us who do remember the events of The Rogue Not Taken had upon learning of this book: why on Earth would Sera reconcile with Haven? Serafina, the oldest and most dangerous of the Dangerous Daughters, left her husband and her family several years ago, with no indication of where she was going or whether she was okay. Now she's back, and her husband, the Duke of Haven, has his first view of her in years. Where does he see her? The House of Lords. Why? They happen to be the only body in Britain capable of granting her a divorce. With an introduction like that, how can it lead to a happy ending? The story that leads up to the answer is well crafted in MacLean's signature heartbreaking and hilarious way. I'll admit, I was actually going for a slightly different ending; if you want to know how I'd have liked to see it turn out, send me an email at the address down at the bottom of this email.
The Ruin of a Rake, Cat Sebastian (July 4)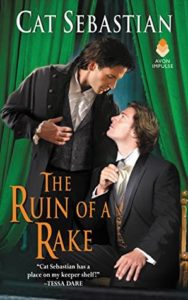 Okay, so apparently this week is for alliterations and possessives.
This, too, is the third in a series, but just like Duchess you don't need to have read the first two. There is a slightly bigger spoiler for something that happens in The Lawrence Browne Affair but it's not an explosive one. (Or is it…)
Lord Courtenay, who we meet in The Lawrence Browne Affair is a rake. He's also an uncle, and has been banned from seeing the boy he practically raised with his recently-deceased sister, who was estranged from her husband, the Earl of Radnor. One way he might be welcomed back into the family, however reluctantly, is to clean up his act. Enter Julian Medlock, brother to one of Radnor's friends and colleagues, who has Higgens-like capability to get this Eliza ready for the Embassy Ball. Or at least make Courtenay presentable enough to get people of quality to actually speak to him again.
If only there weren't that damned attraction that neither was really willing to deny—really, for Julian, it's just getting in the way.
And since I've given you two books that are third books, I should probably give those of you who don't read out of order a series starter to enjoy:
The Duchess War, Courtney Milan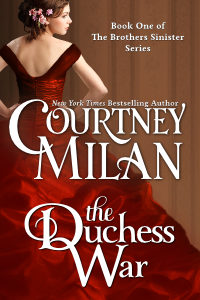 When Minnie Lane's solitude is interrupted by the Duke of Clermont, she is not interested in furthering their acquaintance. But something about her intrigues him to the point where they come to know each other well in the small Victorian town the pair both currently inhabit, for the time being. She's clever and smart, and Clermont is torn between knowing her more and keeping his secret—whatever that may be.
This is the first book in the series, but be prepared to down all five novels and the prequel novella once you've finished.
And as usual, here are more recent releases and books coming out before we meet again! (Sorry, it's a short one this week.)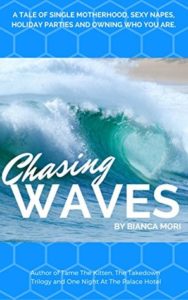 Chasing Waves, Bianca Mori
Lost Without You, Molly O'Keefe
Oversight, Santino Hassell
The Knocked Up Plan, Lauren Blakely
A Most Unlikely Duke, Sophie Barnes
Pounding Skin, LA Witt (7/11)
The Red, Tiffany Reisz (7/11)
Get off Easy, Sarah Brookes (7/11)
Time to get back to reading (not even gonna lie about "getting caught up"). In the meantime, catch me on Twitter @jessisreading or Instagram @jess_is_reading, or send me an email at jessica@riotnewmedia.com if you've got feedback or just want to say hi!