Welcome back to In The Club, a newsletter of resources to keep your book group well-met and well-read. Today we've got Pride reads, a Maori/Pasifika reading list, a look at the first Big Library Reads, Oprah's latest pick, and lots more linky goodness.
---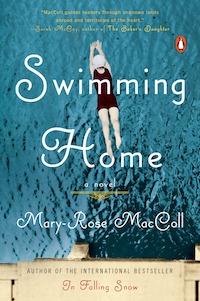 This newsletter is sponsored by Swimming Home by Mary-Rose MacColl.
London 1925: Fifteen-year-old Catherine Quick longs to feel once more the warm waters of her home, to strike out into the ocean off the Torres Strait Islands in Australia and swim, as she's done since she was a child. But now, orphaned and living with her aunt Louisa in London, Catherine feels that everything she values has been stripped away from her.
---
This DC book group has been around since 2007, and BookBrowse interviewed one of their organizers! If you want an in-depth look at how one group operates, this is well worth your time.
Read like Moana: This excellent Maori/Pasifika reading list has novels, poetry, and short stories across genres, along with great descriptions. I now want to read everything on here, basically. And what an excellent pairing — read one of these and then (re)watch Moana!
I missed it earlier, but the Big Library Read ran from June 12-26. If you haven't heard of it, it's a worldwide book club facilitated by Overdrive, allowing anyone access to the chosen ebook without holds or wait lists. Cool, right? From the discussion page it looks like it was a smallish group, but I'll be keeping an eye on it for the next one.
Speaking of ebooks! If you're already reading the classics or want to read more of them, ebooks are already a great choice, since they're generally very available. Of course, the formatting isn't always the best, which is where Standard Ebooks wants to come in. They're taking public domain/open access books and making nicely-formatted ebooks, available for free. I tested one out, and it was pretty seamless.
As Pride month wraps up, there's no time like the present for some round-ups to bring the rainbow to your reading list!
– Book Club Made Me Gay (this one's a must-read, and exploded my own TBR)
– 10 Mind-Blowing Bi & Lesbian Books
– Celebrating Pride and Queer Lit with Hide
– Finding Queer POC Books
– 100 Must-Read LGBTQIA YA Books
– 14 More LGBTQ Middle Grade Books
– Favorite Queer SFF Characters
Related: I love these queer rainbow book stacks, and it got me thinking. Next time you're stuck for a topic or can't decide on a book, why not have everyone Build Their Own Stack and bring it for discussion? Pick a few books (let's say 3-5) around a theme, bring your stack to the meeting, and explain why they're you're favorite for that theme. I'll bet you anything you'd get some new books on your group's TBR list, find some reads for yourself, and fill up your discussion nicely.
In celebrity book club news, Sarah Jessica Parker has picked the first title for her partnership with the ALA: No One Is Coming To Save Us by Stephanie Powell-Watts. She's also announced her first manuscript acquisition for her new imprint!
And last but definitely not least, let's talk about Behold the Dreamers, which Oprah just picked for her book club! This has been a staff favorite at Book Riot since it came out, so we could not be more excited. Here's a link-kit for discussing it amongst yourselves:
– CBS has the announcement and reading group guide!
– The Atlantic looks at Behold the Dreamers and The Wangs vs. The World, both about the 2008 financial collapse.
– PBS has a video (and transcript) of an interview with Imbolo Mbue about writing the book and what people might take away from it.
– Rebecca reviewed it on our YouTube channel back when it first came out.
– And for podcast fans, Rebecca and Liberty discussed it on All the Books.
And that's a wrap: Happy discussing! If you're interested in more science fiction and fantasy talk, you can catch me and my co-host Sharifah on the new SFF Yeah! podcast. For many many more book recommendations (including the occasional book club question!) you can find me on the Get Booked podcast with the inimitable Amanda.
More Resources: 
– Our Book Group In A Box guide
– List your group on the Book Group Resources page