Happy Day Before Friday, audiobook lovers!
Before I get into awesome lists and new releases, I have to tell you about my exciting audiobook discovery. A few weeks ago, I found myself bingeing all of the Amazon show, Bosch. I knew Michael Connelly's Harry Bosch books were popular from my time as a public librarian but never read any myself. A few weeks ago I watched *all* of Bosch and figured listening to all of the Bosch books might be a good salve in the many months before Season 4 is released. So, I went to my local library's website and put whatever I could on hold.
---
Sponsored by Audiobooks.com, your source for Audiobook Month giveaways and deals!
Want free audiobooks? Celebrate Audiobook Month this June with a premium giveaway every Thursday, brought to you by Audiobooks.com! Plus, members can access 2-for-1 offers, exclusive sales and bundled deals all month long. Listeners can stream books live or download for offline listening, and enjoy great features like sped-up narration, sleep timer and custom bookmarking. Plus, Audiobooks.com integrates with CarPlay, Android Auto, Sonos and tvOS for easy listening in your car and home. Create your account for free and get started today!
---
Apparently, a few other folks had the same idea. The only Bosch audiobooks I could find were the later ones and…the actor who plays Bosch in the series narrates some of the later books (like the one I am currently listening to, The Wrong Side of Goodbye)! This may only be exciting to those of us who have come to know Harry Bosch through Titus Welliver's voice but it was fun to hear that same voice as I transitioned from show to audiobook. Also, (and let's just pretend like this is audiobook related), LOOK AT THIS ADORABLE PICTURE OF BOSCH/WELLIVER WITH KITTENS!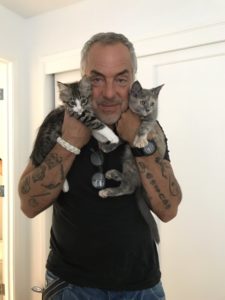 Reading the Rainbow!
Pride month is coming to an end and I wanna highlight a couple of LGBTQIA+ before the month ends (though shouldn't we just celebrate Pride year-round?). Descriptions from the publisher and/or Goodreads in quotes.
Simon and the Homo Sapiens Agenda by Becky Albertalli
This book is just an all-around winner. High school junior Simon isn't openly gay, though privately he's perfectly comfortable with his sexuality. "But when an email falls into the wrong hands, his secret is at risk of being thrust into the spotlight. Now Simon is actually being blackmailed: if he doesn't play wingman for class clown Martin, his sexual identity will become everyone's business. Worse, the privacy of Blue, the pen name of the boy he's been emailing with, will be compromised.."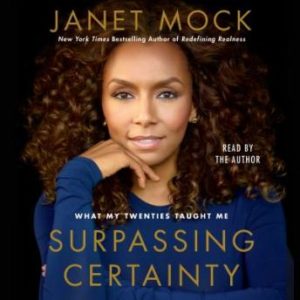 Surpassing Certainty by Janet Mock
"The journey begins a few months before her twentieth birthday. Janet Mock is adjusting to her days as a first-generation college student at the University of Hawaii and her nights as a dancer at a strip club. Finally content in her body, she vacillates between flaunting and concealing herself as she navigates dating and disclosure, sex and intimacy, and most important, letting herself be truly seen. Under the neon lights of Club Nu, Janet meets Troy, a yeoman stationed at Pearl Harbor naval base, who becomes her first. The pleasures and perils of their union serve as a backdrop for Janet's progression through her early twenties with all the universal growing pains-falling in and out of love, living away from home, and figuring out what she wants to do with her life."
Aristotle and Dante Discover the Secrets of the Universe by Benjamin Alire Saenz 
I loved this book long before I heard the audio. Then, I fell in love with Hamilton (and Lin-Manuel Miranda). Then, I found out that LIN MANUEL MIRANDA narrates the Aristotle and Dante audiobook and my life exploded into one big ball of awesome (well, at least for the 7 hours and 32 minutes duration of the audiobook). "When Aristotle and Dante meet at the swimming pool, they seem to have nothing in common. But as the loners start spending time together, they discover that they share a special friendship-the kind that changes lives and lasts a lifetime. And it is through this friendship that Ari and Dante will learn the most important truths about themselves and the kind of people they want to be."
Tranny: Confessions of Punk Rock's Most Infamous Anarchist Sellout by Laura Jane Grace and Dan Ozzi
"The provocative transgender advocate and lead singer of the punk rock band Against Me! provides a searing account of her search for identity and her true self."
Not My Father's Son by Alan Cumming
This audiobook is one of those that makes you laugh while it's punching you in the gut. Now doesn't that sound like fun? (It actually really is). "With ribald humor, wit, and incredible insight, Alan seamlessly moves back and forth in time, integrating stories from his childhood in Scotland and his experiences today as the celebrated actor of film, television, and stage. At times suspenseful, at times deeply moving, but always incredibly brave and honest, Not My Father's Son is a powerful story of embracing the best aspects of the past and triumphantly pushing the darkness aside."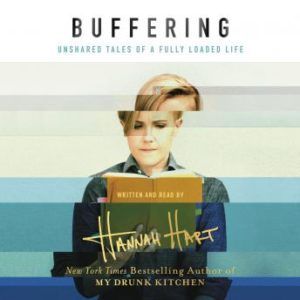 Buffering: Unshared Tales of a Life Fully Loaded by Hannah Hart
"By combing through the journals that Hannah has kept for much of her life, this collection of narrative essays deliver a fuller picture of her life, her experiences, and the things she's figured out about family, faith, love, sexuality, self-worth, friendship and fame."
Being Jazz by Jazz Jennings
"Teen advocate and trailblazer Jazz Jennings shares her very public transgender journey, as she inspires people to accept the differences in others while they embrace their own truths."
The Clancys of Queens by Tara Clancy
"Fifth-generation New Yorker, third-generation bartender, and first-generation author Tara Clancy spend her childhood scheming and gambling with her force-of-nature grandmother, brawling with eleven-year-old girls on the concrete recess battle yard of MS 172, lounging on Adirondack chairs beside an immaculate croquet lawn, holding court beside Joey O'Dirt, Goiter Eddy, and Roger the Dodger at her Dad's local bar, Tara leapfrogs across these varied spheres, delivering stories from each world with originality, grit, and outrageous humor."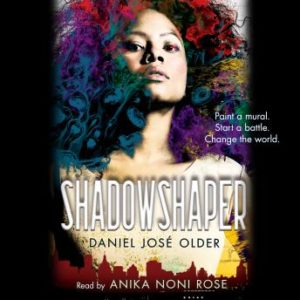 Shadowshaper Daniel José Older
"Sierra Santiago planned an easy summer of making art and hanging out with her friends. But then a corpse crashes the first party of the season. Her stroke-ridden grandfather starts apologizing over and over. And when the murals in her neighborhood begin to weep real tears… Well, something more sinister than the usual Brooklyn ruckus is going on…"
Long Black Veil by Jennifer Finney Boylan
"Weaving deftly between 1980 and the present day, and told in an unforgettable voice, Long Black Veil is an intensely atmospheric thriller that explores the meaning of identity, loyalty, and love."
We Are Never Meeting in Real Life by Samantha Irby
I have loved Samantha Irby's work for a long time. If you listen to this audiobook (and you happen to believe, as Irby and I do, that "Sometimes you just have to laugh, even when life is a dumpster fire.") I think Irby will become one of your new favorites.
This is How It Always Is by Laurie Frankel
"When Rosie and Penn and their four boys welcome the newest member of their family, no one is surprised it's another baby boy. But Claude is not like his brothers. One day he puts on a dress and refuses to take it off. He wants to bring a purse to kindergarten. He wants hair long enough to sit on. When he grows up, Claude says, he wants to be a girl. Rosie and Penn aren't panicked at first. Kids go through phases, after all, and make-believe is fun. But soon the entire family is keeping Claude's secret. Until one day it explodes…"
New Releases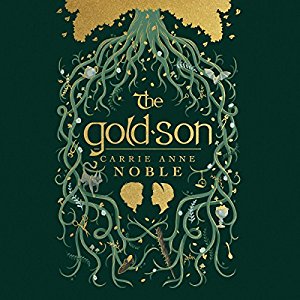 The Gold-Son by Carrie Anne Noble
"All sixteen-year-old Tommin wants is to make beautiful shoes and care for his beloved grandmother, but his insatiable need to steal threatens to destroy everything. Driven by a curse that demands more and more gold, he's sure to get caught eventually.
When mysterious Lorcan Reilly arrives in town with his "niece," Eve, Tommin believes the fellow wants to help him. Instead, Lorcan whisks him off to the underground realm of the Leprechauns, where, alongside Eve, he's forced to prepare to become one of them.
As Lorcan's plans for his "gold-children" are slowly revealed, Tommin and Eve plan their escape. But with Tommin's humanity slipping away, the fate-crossed pair has everything to lose unless they can find a way to outsmart a magical curse centuries in the making."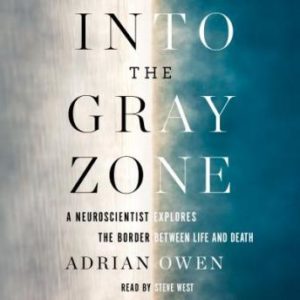 Into The Grey Zone by Adrian Owen
"Into the Gray Zone takes listeners to the edge of a dazzling, humbling frontier in our understanding of the brain: the so-called "gray zone" between full consciousness and brain death. People in this middle place have sustained traumatic brain injuries or are the victims of stroke or degenerative diseases, such as Alzheimer's and Parkinson's. Many are oblivious to the outside world, and their doctors believe they are incapable of thought. But a sizeable number are experiencing something different: intact minds adrift deep within damaged brains and bodies. An expert in the field, Adrian Owen led a team that, in 2006, discovered this lost population and made medical history. Scientists, physicians, and philosophers have only just begun to grapple with the implications."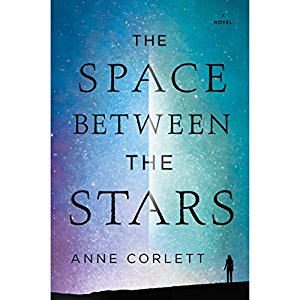 The Space Between the Stars by Anne Corlett
"All Jamie Allenby ever wanted was space. Even though she wasn't forced to emigrate from Earth, she willingly left the overpopulated, claustrophobic planet. And when a long relationship devolved into silence and suffocating sadness, she found work on a frontier world on the edges of civilization. Then the virus hit.
Now Jamie finds herself dreadfully alone, with all that's left of the dead. Until a garbled message from Earth gives her hope that someone from her past might still be alive.
Soon Jamie finds other survivors, and their ragtag group will travel through the vast reaches of space, drawn to the promise of a new beginning on Earth. But their dream will pit them against those desperately clinging to the old ways. And Jamie's own journey home will help her close the distance between who she has become and who she is meant to be."
Audiobooking with Book Riot
Audiobooks for the Whole Family: 5 For the Sweet Spot
What audiobooks can entertain an adult while not terrorizing the children who might be listening in the back seat? M. Lynx Qualey has five must-listens.
Best Audiobooks of 2017…so far
Jaime Canaves picks some of the best listens of the year.
Until next week, audiobookers! As always, feel free to hit me up on Twitter at @msmacb.
~Katie
P.S. SERIOUSLY THIS PICTURE