Learning to Read as an Adult Changes Deep Regions of the Brain
In a new study, researchers discovered that reading activates brain structures deeper than the cerebral cortex. They had expected to replicate previous findings that changes are limited to the cortex, but brain scans of the study's participants surprised the researchers. The scans were taken before and after a six-month training where these participants–mostly women from India in their thirties who couldn't read a single word–reached a first-grade level of reading. The study revealed that reading affects deep brain structures that help the visual cortex filter important information from the flood of visual input. And this discovery shed new light on a possible cause of dyslexia. Super interesting!
Maps Reveal the Hidden Structures of "Choose Your Own Adventure" Books
Remember "Choose Your Own Adventure" books and inexorable attempts to trample the magic by attempting to cheat your way to a desirable outcome? Well, Chooseco has trampled the magic for us! Okay, the visual maps of the hidden structures are actually pretty neat. The company, founded by one of the series' original authors, is republishing new editions of the 80s/90s books, including the maps as an additional feature.
Tracy K. Smith is the New U.S. Poet Laureate
Tracy K. Smith, the author of The Body's Question, Duende, and Life on Mars, which won the 2012 Pulitzer Prize in Poetry, is the country's new poet laureate! And the first poet laureate appointed by Librarian of Congress Carla Hayden. Smith gets an office in the Library of Congress, a travel budget, and a stipend. Most importantly, Smith gets, as she said, "time and space and support for the freedom to create." As a candidate, Smith appealed to Hayden due to the poet's interest in visiting rural areas to talk about poetry, which aligns with Hayden's goal to make the library accessible and relatable. Applause all around.
Trump Blocks Stephen King; Enter J.K. Rowling
King was obviously heartbroken when the president blocked him on Twitter. If you follow the author on social media, you undoubtedly know how he feels about the 45th, and it seems King's scathing remarks had not gone unnoticed by the president. After King announced that he'd been blocked, J.K. Rowling offered to DM the president's tweets to her fellow best-selling author. I do love a cheeky bookish Twitter story.
---
Thanks to TarcherPerigee, publisher of Start Where You Are by Meera Lee Patel, for sponsoring this week's newsletter.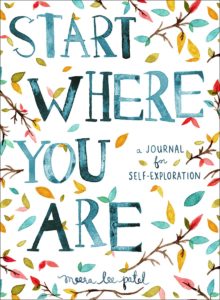 A lushly illustrated, interactive journal featuring beautiful watercolors and inspiring quotes from celebrated writers, artists and visionaries…
The hardest questions are the ones that open doors. Every spread in this book features an inspiring quote from a famous figure paired with an exercise. These exercises–often taking the form of a chart, list or written prompt–are designed to help you apply the lesson within each quote to your life.
There is no right or wrong way to complete this book. If you're honest with your thoughts, you'll become privy to various pieces of yourself – some that you know very well, and others that have previously gone unnoticed.
Take your time. Use what you have. Start where you are.