Happy almost-officially summer, audiobook lovers!
First, huge thanks to everyone who sent me suggestions for my road trip with a sci-fi lover! I'm compiling all your fabulous recommendations now and I'll put them in the next newsletter (to recap: I'm taking a road trip with a dude who pretty much exclusively reads sci-fi and am looking for audiobooks that will be palatable to both of us).
---
Sponsored by Audiobooks.com, your source for Audiobook Month giveaways and deals!
Want free audiobooks? Celebrate Audiobook Month this June with a premium giveaway every Thursday, brought to you by Audiobooks.com! Plus, members can access 2-for-1 offers, exclusive sales and bundled deals all month long. Listeners can stream books live or download for offline listening, and enjoy great features like sped-up narration, sleep timer and custom bookmarking. Plus, Audiobooks.com integrates with CarPlay, Android Auto, Sonos and tvOS for easy listening in your car and home. Create your account for free and get started today!
---
Audiobooks have been on the minds of Book Riot contributors recently–-in the past week we've had several helpful audiobook posts: everything from audiobooks for new listeners to instructions for lending Audible books with an old smartphone.
Book Riot Round-up of Audiobooks Posts
Lending Audible Books With an Old Smartphone: How one audiobook listener gets around the impossibility of lending out audiobooks.
5 Best Audiobooks for New Listeners: Queen of audiobooking Rachel Smalter Hall Audiobooks are more popular than ever, but "reading" with your ears is a learned skill. Where do you start? Rachel suggest 5 of the best audiobooks for new listeners.
Awesome Audiobooks Read By Actors: Y'all know I love a good narrator and rioter Susie agrees. The actors-as-narrators do these excellent books justice in the audiobook format. Give them a listen!
Hilarious non-fiction Audiobooks to Power Your Summer Road Trip: These ten hilarious nonfiction audiobooks will entertain your brain while you drive.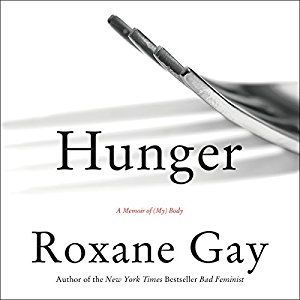 As for me, I've never been in the middle of several audiobooks at once, but that's where I find myself. See, I got the audio copy of Roxane Gay's new book, Hunger, and so I had to stop listening to all the audiobooks I was in the middle of and immediately settle into Gay's brilliant collection of very personal essays.
New Releases (descriptions in quotes via publisher)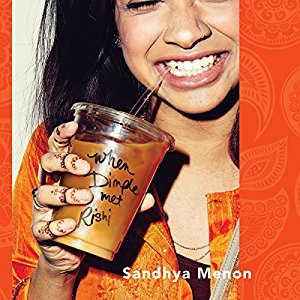 When Dimple Met Rishi by Sandhya Menon; narrated by Sneha Mathan
This charming YA novel was released on May 30th but somehow I missed it. I read the print book, however, and absolutely loved it. From the publisher's description:
"Now that Dimple Shah has graduated, she's ready for a break from her family – especially from Mamma's inexplicable obsession with her finding the Ideal Indian Husband. Ugh. But Dimple knows that her mother must respect that she isn't interested in doing that right now – otherwise she wouldn't have paid for her to attend a summer program for aspiring web developers, right?
Rishi Patel is a hopeless romantic, so when his parents tell him that his future wife will be attending the same summer program as him – during which he'll have to woo her – he's totally onboard. Because as silly as it sounds to most people in his life, Rishi believes in the power of tradition, stability, and being a part of something much bigger than himself. Although their parents hadn't planned suggesting the arrangement so soon, when their kids signed up for the same summer program, they figured why not?"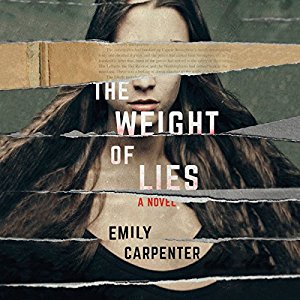 The Weight of Lies by Emily Carpenter; narrated by Kate Orsini
"Reformed party girl Meg Ashley leads a life of privilege, thanks to a bestselling horror novel her mother wrote decades ago. But Meg knows that the glow of their very public life hides a darker reality of lies, manipulation, and the heartbreak of her own solitary childhood. Desperate to break free of her mother, Meg accepts a proposal to write a scandalous, tell-all memoir.
Digging into the past – and her mother's cult classic – draws Meg to Bonny Island, Georgia, and an unusual woman said to be the inspiration for the book. At first island life seems idyllic, but as Meg starts to ask tough questions, disturbing revelations come to light…including some about her mother.
Soon Meg's search leads her to question the facts of a decades-old murder. She's warned to leave it alone, but as the lies pile up, Meg knows she's getting close to finding a murderer. When her own life is threatened, Meg realizes the darkness found in her mother's book is nothing compared to the chilling truth that lurks off the page."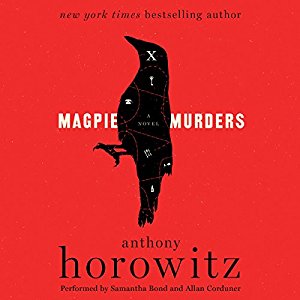 Magpie Murders by: Anthony Horowitz; narrated by Samantha Bond, Allan Corduner
"When editor Susan Ryeland is given the manuscript of Alan Conway's latest novel, she has no reason to think it will be much different from any of his others. After working with the best-selling crime writer for years, she's intimately familiar with his detective, Atticus Pünd, who solves mysteries disturbing sleepy English villages. An homage to queens of classic British crime such as Agatha Christie and Dorothy Sayers, Alan's traditional formula has proved hugely successful. So successful that Susan must continue to put up with his troubling behavior if she wants to keep her job.
Conway's latest tale has Atticus Pünd investigating a murder at Pye Hall, a local manor house. Yes, there are dead bodies and a host of intriguing suspects, but the more Susan reads, the more she's convinced that there is another story hidden in the manuscript: one of real-life jealousy, greed, ruthless ambition, and murder."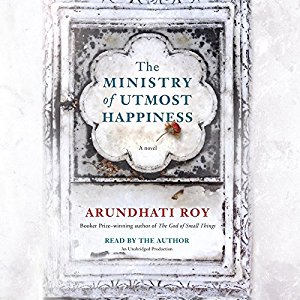 The Ministry of Utmost Happiness written and narrated by Arundhati Roy
"In a graveyard outside the walls of Old Delhi, a resident unrolls a threadbare Persian carpet. On a concrete sidewalk, a baby suddenly appears just after midnight. In a snowy valley, a bereaved father writes a letter to his five-year-old daughter about the people who came to her funeral. In a second-floor apartment, a lone woman chain-smokes as she reads through her old notebooks. At the Jannat Guest House, two people who have known each other all their lives sleep with their arms wrapped around each other, as though they have just met.
A braided narrative of astonishing force and originality, The Ministry of Utmost Happiness is at once a love story and a provocation – a novel as inventive as it is emotionally engaging. It is told with a whisper, in a shout, through joyous tears, and sometimes with a bitter laugh. Its heroes, both present and departed, have been broken by the world we live in – and then mended by love. For this reason they will never surrender.
How to tell a shattered story?
By slowly becoming everybody.
No.
By slowly becoming everything."
Audiobook News/Links for Your Ears
The 2017 Audie Awards  – which honor the best in spoken word entertainment – were announced last week. Check out the winners by category below, explore the full list of nominees, or let them know what you think on Twitter @audible_com.
The One Novel You Need To Listen To on Audio: OK, can someone listen to this and tell me if it's too scary for me?
Finding Your Audiobook Voice: The author of The Mighty Franks on the peculiar pleasures of writing his memoir—and then recording himself reading the whole thing aloud.
Ben Aaronovitch interview: Cityread, Doctor Who, audiobooks, Peter Grant
Talking Book Center Awarded Grant: Talking Book Center awarded grant from United Way of Greater Augusta
Best Audiobooks for a Silent Road Trip: I don't have kids, but if I did, you can be damn sure I would be all about whatever it takes to distract them during car trips…and everything else.
How to Get Alexa to Read You a Kindle Book: Someone mentioned this in the last Insider's Audiobook Chat (every second Thursday of the month at 1 PM EST. #shamelessplug) and I have never heard such a compelling reason to get an Alexa-doodybob.
Thank you again for all your lovely recommendations and I promise I'll get that list going ASAP. Feel free to say hey whenever (Twitter: @msmacb, email katie@riotnewmedia.com). Hope you have a great week!
~Katie