Welcome back, YA lovers!
This week's edition of "What's Up in YA?" is sponsored by The Evaporation of Sofi Snow by Mary Weber.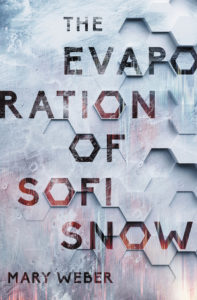 From award-winning author Mary Weber, comes a story of video gaming, blood, and power. As an online gamer, Sofi Snow battles behind the scenes of Earth's Fantasy Fighting arena. Her brother Shilo is forced to compete in a mix of real and virtual blood sport. When, a bomb shatters the arena, Sofi thinks Shilo's been taken to an ice-planet – Delonese. Charming playboy Miguel is a Delonese Ambassador. He's built a career on secrets and seduction. When the bomb explodes, the tables turn and he's the target. The game is simple: Help the blackmailers, or lose more than Earth can afford.
---
Grab yourself some ice cream, some tea, or any other comfort comestible of choice and let's catch up with all the YA news that's fit to post.
Thanks for hanging out and we'll see you back here next week with a really exciting interview with a long-time Book Riot and YA reader favorite.
— Kelly Jensen, @veronikellymars