I Will Never Stop Eating Up Bookish Tiny Houses
Yup. Can't stop won't stop, so thank you to French firm La Maison Qui Chemin, for giving us a drool-worthy tiny house bookstore–although those of us who do not live close enough to La librairie itinérante (the traveling bookstore) can only enjoy a virtual experience courtesy of the gallery included in the article. The tiny house bookseller, Jean-Jacques, plans to wander all over France, visiting places that don't have bookstores. Rioter Kelly Jensen said she realized her dream to bring tiny house bookstores to America, and I fully and selfishly support this idea. Please make it happen, Someone Anyone.
First Chinese Woman to Win Hugo Featured in Audi Commercial
It's interesting to see a Sci-Fi author in a celebrity role, and I must say, the commercial Hao Jingfang (author of Folding Beijing, translated by the ubiquitous Ken Liu) headlines is visually impressive and plays my Blade Runner and Inception loving heart like a fiddle. It's nice to see her gaining recognition beyond the book world because she deserves it, and because it will hopefully give her work and other works in translation more global exposure. I've also heard rumor that Folding Beijing will be adapted into a film, so look out for it!
All the Hypotheses about the Most Misspelled Words in America
My brain is determined to employ pseudo-psychology to find a correlation between regional culture and each state's most misspelled word. Quit now, brain. Google released a new spelling map showing each U.S. state's most Googled word for its spelling. I will never get over that Wisconsin is Wisconsin's word. The map was released in honor of the 90th Annual Scripps National Spelling Bee–I've made a date with YouTube to watch it all. Let's scatter those spelling geniuses across the states on tutoring missions.
And the Award for Coolest Dad Goes To…
Daniel Radosh–not because he's the Daily Show head writer but because he wrote the perfect letter in response to a request from his son's school to sign a permission slip allowing his child to read Ray Bradbury's Fahrenheit 451…because swearing or whatever. Here's a tasty snippet of his response to be getting on with: "It's easy enough to read the book and say, 'This is crazy. It could never really happen,' but pretending to present students at the start with what seems like a totally reasonable 'first step' is a really immersive way to teach them how insidious censorship can be I'm sure that when the book club is over and the students realize the true intent of this letter they'll be shocked at how many of them accepted it as an actual permission slip."
---
Thanks to Bookclubbish.com, publisher of Not A Sound by Heather Gudenkauf, for sponsoring this week's newsletter.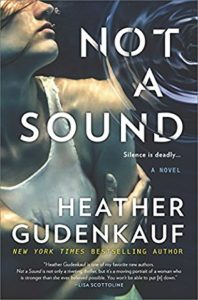 When a tragic accident leaves nurse Amelia Winn deaf, she spirals into a depression that ultimately causes her to lose everything that matters—her job, her husband, David, and her stepdaughter, Nora. Now, two years later and with the help of her hearing dog, Stitch, she is finally getting back on her feet. But when she discovers the body of a fellow nurse in the dense bush by the river, deep in the woods near her cabin, she is plunged into a disturbing mystery that could shatter the carefully reconstructed pieces of her life all over again.