It's Monday. Again. But there's no reason to pout, as long as there are books in the world. Here's a bunch of bookish news to start your week off right. Be excellent to each other. – xoxo, Liberty
---
Today's newsletter is sponsored by Leaving Lucy Pear by Anna Solomon.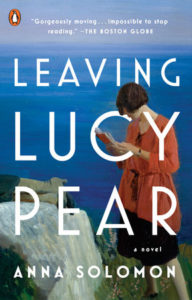 One night in 1917 Beatrice Haven sneaks out of her uncle's house on Cape Ann, Massachusetts, leaves her newborn baby at the foot of a pear tree, and watches as another woman claims the infant as her own. The unwed daughter of wealthy Jewish industrialists and a gifted pianist bound for Radcliffe, Bea plans to leave her shameful secret behind and make a fresh start. Ten years later, Prohibition is in full swing, post-WWI America is in the grips of rampant xenophobia, and Bea's hopes for her future remain unfulfilled.
---
Deals, Reels, and Squeals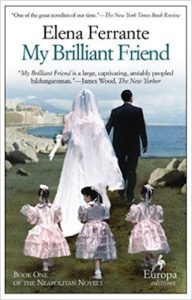 A look at the casting call for Elena Ferrante's My Brilliant Friend movie.
A modern gay take on Pride And Prejudice is heading our way.
Juno Temple & Janelle Monae to star in an episode of Philip K. Dick's Electric Dreams.
Here's a look at the full cast of Kevin Kwan's Crazy Rich Asians.
AMC is developing a series based on Joe Hill's NOS4A2.
Mark-Paul Gosselaar to lead the cast of The Passage. (I first typed that as 'lead the cats' and now that is a thing I would also like to see.)
HBO nabs Today Will Be Different, a limited series starring Julia Roberts, based on the novel by Maria Semple.
Cover Reveals
So excited for Samira Ahmed's Love, Hate & Other Filters! (Jan. 16, 2018)
Unnamed Press revealed the cover for Djinn City by Saad Hossain. While you're waiting, you should read his novel Escape from Baghdad – it's one of my favorites! (Oct. 24)
A.S. King's The Dust of 100 Dogs is getting an amazing new cover, which is similar to the old amazing cover! (Oct. 3)
And here's Gae Polisner's In Sight of Stars, coming next year. (March 2018)
Sneak Peeks!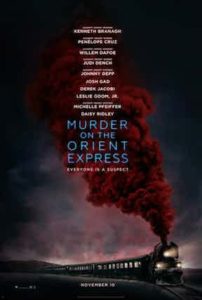 The official trailer for the Murder on the Orient Express remake is out. (I am not very interested, but Kenneth Branagh is always amazing, so maybe yes I am?)
The trailer for Netflix's new animated Castlevania series is up. It's written by Warren Ellis!
Brendan Gleason and Hugh Grant are on board for the Paddington sequel.
Here's my boyfriend Idris Elba in the trailer for The Mountain Between Us.
Book Riot Recommends
At Book Riot, I work on the New Books! email, the All the Books! podcast about new releases, and the Book Riot Insiders new release index. I am very fortunate to get to read a lot of upcoming titles, and I'm delighted to share a couple with you each week!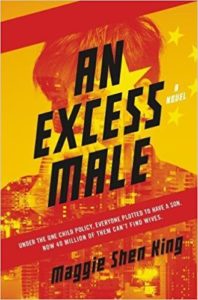 An Excess Male by Maggie Shen King
If you've inhaled all of The Handmaid's Tale series and need another eerie dystopia, mark this one down! Set in near-future China, it's an examination of the ramifications of the "One Child Policy" that favored male children. Now it's 2030 and there are not a great number of women. But there are 40 million unwed men in a society that looks down on bachelors, so women are able to take three husbands. The book stars Wei-guo, who has entered into an arrangement as a third husband, the lowest position in the household. He and his family struggle to make their way in a world of authoritarian measures, reinvigorated Communist ideals, and social engineering. It's so fantastic! (Harper Voyager, Sept. 12)
Revenge of the Nerd: Or . . . The Singular Adventures of the Man Who Would Be Booger by Curtis Armstrong
Nostalgia, full steam ahead! This is a delightful memoir from the classically-trained actor Armstrong, probably most famous for his roles in Revenge of the Nerds, Moonlighting, and Better Off Dead. (Although I love him the most in One Crazy Summer.) This is the story of his forty-year career being typecast as a nerd…because he is a nerd. I am almost more fascinated by character actors than the actual stars of film and television. They are much more interesting! And this is a charming look at one of the most famous character actors of all time. (Thomas Dunne Books, July 11)
And this is funny.
Author Laura Ruby's cat really enjoys the gift she received.