Happy Thursday, Audiobooks fans!
We've got lots of new releases and audiobooks new, so let's dive right in!
---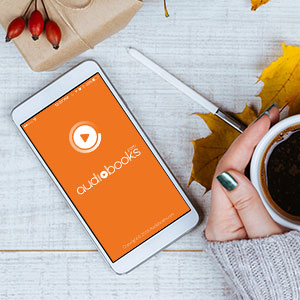 Sponsored by Audiobooks.com
100,000 titles, 1 app, endless listening! Your first book is free when you sign up for Audiobooks.com, the premier membership service for audiobook lovers. You can stream books live or download for offline listening, and enjoy great features like sped-up narration, sleep timer and custom bookmarking. Browse by genre or curated lists, check out promotions and giveaways, and switch seamlessly between devices with cloud-syncing technology. Plus, Audiobooks.com integrates with CarPlay, Android Auto, Sonos and tvOS for easy listening in your car and home. Try Audiobooks.com today!
---
New Releases: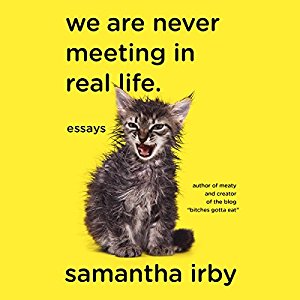 We Are Never Meeting in Real Life by Samantha Irby:
I am a huuuge fan of Samantha Irby (keep your eyes peeled for an interview with her on Book Riot in the not-too-distant-future) and her new book, We Are Never Meeting in Real Life, is out on May 30th. Irby is funny and sarcastic without shying away from painful topics. I've been reading her writing for years but We Are Never Meeting in Real Life is the first time I've gotten to hear her voice and her narration is perfection.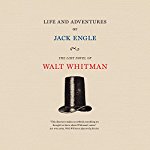 May 30th really is shaping up to be an excellent day for audiobook releases. Random House is releasing the audiobook version of Walt Whitman's Life and Adventures of Jack Engle, just in time for the author's 198th birthday on May 31st. The book will be narrated by none other the Don Drap–-I mean Jon Hamm. Hamm said of the opportunity, "I had been a fan of Whitman's work, so it was an easy choice for me. And this is a lost work. It's exciting to read something new by someone who's been dead over 100 years."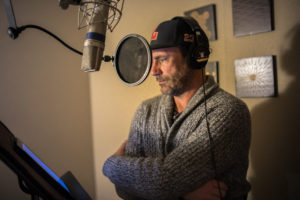 The story follows orphan Jack Engle through 1850s New York as he tries to make his w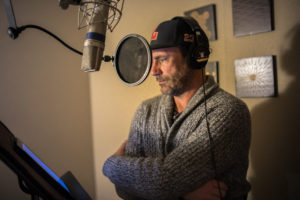 ay as a young lawyer, apprenticing with the cheating Covert, uncovering the truth about his own father's murder, and revealing Covert's deceit about his inheritance.
You can hear an excerpt of Hamm's narration of the book here.
It's Always the Husband by Michele Campbell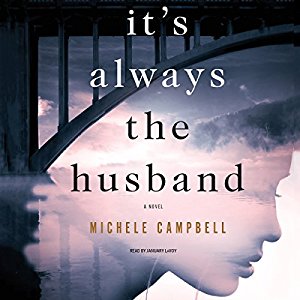 The last thriller I listened to was a bit of a disappointment, so I'm really looking forward to listening to this book, described by Kirkus as "an intriguing whodunit that examines the explosive potential of secrets to destroy friendships, marriages, and lives… a page-turner."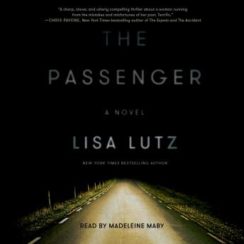 So what do I want when I say I'm looking for a thriller? One of my favorite thrillers is The Passenger by Lisa Lutz. I'm scared of…well, most things, but I was able to listen to Lutz's book while alone in a cabin in Tahoe *at night* and I didn't have to sleep with the lights on. I highly recommend it. And if you do listen to it and love/hate/whatever it, let me know! You can find me on Twitter at @msmacb.
10 Listens to Inspire Better Cooking and Eating: The Audible blog has neat little playlists–-the most recent one I found particularly helpful seeing as I know how to cook exactly one thing (omelets) but I love learning about how other people cook and listen to stories about people who are more motivated than I am to make delicious food.
People Doing Good Through Audiobooks: Look, I don't know if there are any Book Riot Audiobook Newsletter readers in Bangkok, but I love to see this kind of stuff happening. Pond Sinlaparatsamee, a third-year student from the Albert Laurence School of Communication Arts at Assumption University of Thailand is heading a project named "Voice Out", and hopes to raise awareness about the lack of educational audiobooks available for the visually impaired.
Following-up
Last week, I talked about W. Kamau Bell's audiobook, The Awkward Thoughts of W. Kamau Bell. If you're still unsure about if his book sounds good, check out the interview with him here.
Audiostate, a subdivision of a new Dallas-based entertainment company, is creating audiobooks that are like movies for your ears. In other words, they've got a full cast, an original score, sound effects, and so on. They released the first title, The Narrow Caves, last week.  
More Links for Your Ears:
The Secret Diary of Laura Palmer: Twin Peaks' Problematic Tie-in
Gemma Whelan Q&A: on Game of Thrones, The Crown, The Moorside and new audiobook 'Just One Damned Thing After Another'
The Sound of Sherlock: Stephen Fry Voices the Master Sleuth
Newsday editors share their favorite audiobooks (I very much approve of this list, not that anyone asked).
A Publisher Tries Podcasts as a path to Audiobooks
Until next time,
~Katie