Happy Friday, y'all!
Let's start off with a bang: The Arthur C. Clarke Award shortlist has been announced! The big surprise on here is Underground Railroad by Colson Whitehead, which is sweeping the awards circuit — and for good reason. It's an incredibly powerful book, as well as an alternate history of the Civil War that posits underground steam locomotives. Once you think about it as alternate history, you can see how it made the list, but I'd bet most folks weren't expecting to see it pop up here. I'm also a huge fan of A Closed and Common Orbit and Ninefox Gambit. If I had to vote, it would be for Ninefox — I haven't read a space opera that intricately built and plotted in a very long time and I'm dying to see it get some critical recognition, but there are no bad picks here.
How many different retellings of The Beauty and the Beast can you think of? I maxed out at five, but Amanda put together a list of literally 100 (!!).
This guy is building a wearable puppet version of K-2SO for Halloween. Apparently you just need a 3D printer, a bunch of PVC and sculpt-able foam, oh, and some killer construction skillz. And I thought my collapsible lightsaber was cool… (I still think it's cool.)
For those who like hearing their stories: Tor is launching a new imprint called Tor Labs "emphasizing experimental approaches to genre publishing, beginning with original dramatic podcasts." Which basically means we're getting new story podcasts, starting with Steal the Stars which includes UFO-related hijinks.
Tak is a boardgame you could actually play, even if you don't live in Patrick Rothfuss's books. (Which possibly everyone on this list would prefer, perhaps?) More astonishing to me is that the Kickstarter collected over $1 million before it closed. A million dollars! That is some serious Kingkiller Chronicles love.
And finally, because I am writing this on May 4th, I require you all to read some Star Wars puns.
For this issue's reviews, I am delighted to present to you: Zombies, two ways.
Zone One by Colson Whitehead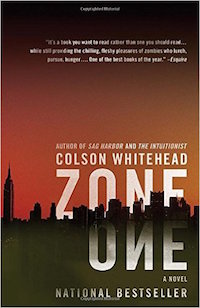 While there are blood and guts aplenty, Zone One is more about the bureaucracy of the apocalypse than its monsters. Think of it as the literary baby of The Office and The Walking Dead. The main character, nicknamed Mark Spitz in an extended running joke, is part of the clean-up crew sweeping through lower Manhattan, trying to clear out zombies one building at a time. In this horrible future there are two kinds of zombies: skels, which will tackle, bite, and turn you if given half a chance; and stragglers, which return to one location and just … stand there. Creepy, sure, but not so hard to dispose of — in theory.
Our narrator, nicknamed Mark Spitz in an impressively long-running joke arc, has survived both the normal world and the apocalypse by being perfectly mediocre. When you're the ultimate average, gliding through life looks a lot easier apparently! We get his own backstory of flight and survival, along with those of his crew; we also get the marketing ploys of the new provincial government, the vagaries of logistics for body-bags and ammunition, the promotionally-driven allowances for looting, the daily annoyances of "sweeper" duty, and the daydreams of times gone by. Mark Spitz was, among other brief careers, a social media manager, and one of the most-quoted passages of the book (at least in my circle) comes from his anecdotes about that job.
The narrative jumps back and forth in time from one chapter — often one page — to the next, lending to the surreal tone of the narrative. Whitehead deploys that surrealism to both hilarious and devastating effect. And just when you think you know the story, that's when things get really interesting.
Hadriana in All My Dreams by René Depestre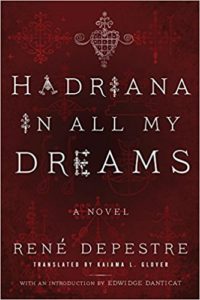 If Gabriel Garcia Marquez were to write a zombie novel, it wouldn't be this but you'd be in roughly the same ballpark. René Depestre's amazing Hadriana in All My Dreams, originally published in 1988 and now reissued by Akashic Books, is a riotous, magical, raucous look at Vodou culture as well as an ode to Jacmel, Haiti.
Set in his own hometown, Jacmel, it follows the wedding-day zombification of a beautiful young French-Creole girl named Hadriana. About to wed her Haitian fiancé, she collapses immediately after giving her vows. But Hadriana is not dead — instead, she's been drugged and transformed into a zombie by a man with nefarious purposes. The first half of the book is told by Patrick, her childhood friend and unrequited lover, and gives us a local's view of the folklore, religion, spirituality, and racial politics that blend and clash in Jacmel.
This novel is both sensual and sexual; from succubus butterflies to Hadriana's Carnival-influenced funeral to the enslavement of women via zombification, bodies are central to both the narrative and plot. Depestre is unabashed in his celebration of sexuality and unflinching in chronicling the ways it is abused. Refreshingly — and importantly to this reader — he also chronicles women's agency in ways I was not expecting to see. This is a fever-dream of a book, a look into the origins and folklore of zombies, and a local's-eye view of Haiti in the early 1900s, and it will change the way you think about zombies.
---
This newsletter is sponsored by 5 Worlds Book 1: The Sand Warrior.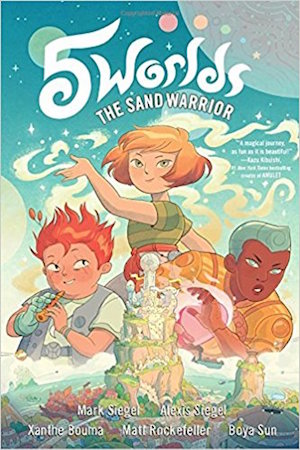 The 5 Worlds are on the brink of extinction unless five ancient and mysterious beacons are lit. When war erupts, three unlikely heroes will discover there's more to themselves than meets the eye. The clumsiest student at the Sand Dancer Academy, Oona Lee is a fighter with a big destiny. A boy from the poorest slums, An Tzu has a surprising gift and a knack for getting out of sticky situations. Star athlete Jax Amboy is beloved by an entire galaxy, but has no real friends. Can these three kids discover their talents in time to save the 5 Worlds?