It's the first Tuesday of the month, so you know what that means: IT'S A SPECTACULARLY GOOD NEW RELEASE DAY. And the warm weather is finally here, so I can look out my window and see the sun and green grass! (What, you thought I was going to say "read outside?" LOL. That's where the bugs live, sillies.) There are a kitten-ton of great books out this week, including the last books in the Court of Thorns and Roses and Divine Cities trilogies! And you can hear about several of these books on this week's episode of the All the Books! Rebecca and I talked about a few amazing books we loved, such as Priestdaddy, One Day We'll All Be Dead and None of This Will Matter, and This is Just My Face.
And while we're talking about book news: Wanna learn about new book deals, adaptation news, and upcoming must-read books? I'm writing the new Book Riot newsletter, Book Radar, which will give you all those things! You can sign up here, and check out the most recent one here.
Now, let's get down to business.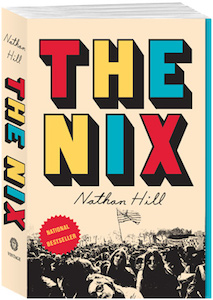 This week's newsletter is sponsored by The Nix by Nathan Hill, new in paperback.
Samuel hasn't seen his mother since she abandoned the family. Now she's re-appeared, having committed an absurd crime that electrifies the nightly news and inflames a politically divided country. To save her, Samuel will have to embark on a journey, uncovering long-buried secrets that stretch back across generations, from 2011 to 1960s America and to WWII Norway, home of the mysterious Nix. As he does so, Samuel will confront not only Faye's losses but also his own lost love, and will relearn everything he thought he knew about his mother, and himself.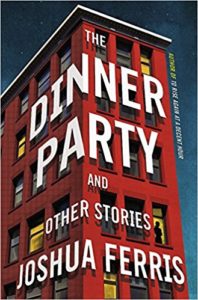 The Dinner Party: Stories by Joshua Ferris
The Storied City: The Quest for Timbuktu and the Fantastic Mission to Save Its Past by Charlie English
Deep Water (Simon True) by Katherine Nichols
The Boy on the Bridge by M.R. Carey
Priestdaddy: A Memoir by Patricia Lockwood
The Farm in the Green Mountains (NYRB Classics) by Alice Herdan-Zuckmayer (Author), Ida H. Washington (Translator), Carol E. Washington (Translator)
One Day We'll All Be Dead and None of This Will Matter: Essays by Scaachi Koul
The Jane Austen Project by Kathleen A. Flynn
Ugly Prey: An Innocent Woman and the Death Sentence That Scandalized Jazz Age Chicago by Emilie Le Beau Lucchesi
Genevieves by Henry Hoke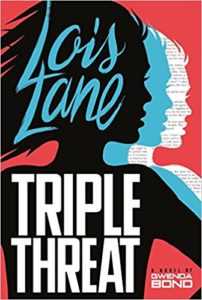 Triple Threat (Lois Lane) by Gwenda Bond
This Is Just My Face: Try Not to Stare by Gabourey Sidibe
Beneath a Scarlet Sky by Mark Sullivan
Beach Lawyer by Avery Duff
My Lovely Wife in the Psych Ward: A Memoir by Mark Lukach
The Garden of Small Beginnings by Abbi Waxman
Four Weeks, Five People by Jennifer Yu
Mockingbird Songs: My Friendship with Harper Lee by Wayne Flynt
Cutting Back: My Apprenticeship in the Gardens of Kyoto by Leslie Buck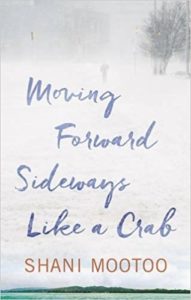 Moving Forward Sideways Like a Crab by Shani Mootoo
Posted by John David Anderson
The Lost Kingdom of Bamarre by Gail Carson Levine
Before We Sleep by Jeffrey Lent
Ginny Moon by Benjamin Ludwig  
Fen: Stories by Daisy Johnson
Said Not Said: Poems by Fred Marchant
The History of the Future by Edward McPherson
The One Memory of Flora Banks by Emily Barr
How to Be Everything: A Guide for Those Who (Still) Don't Know What They Want to Be When They Grow Up by Emilie Wapnick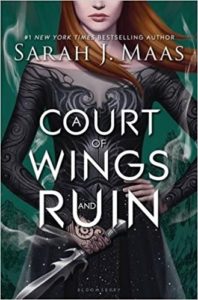 A Court of Wings and Ruin (A Court of Thorns and Roses) by Sarah J. Maas
The Supernormal Sleuthing Service: The Lost Legacy by Gwenda Bond and Christopher Rowe
American Kingpin: The Epic Hunt for the Criminal Mastermind Behind the Silk Road by Nick Bilton
The Awkward Thoughts of W. Kamau Bell: Tales of a 6′ 4″, African American, Heterosexual, Cisgender, Left-Leaning, Asthmatic, Black and Proud Blerd, Mama's Boy, Dad, and Stand-Up Comedian by W. Kamau Bell
Hooper's Revolution by Dennie Wendt
Built on Bones: 15,000 Years of Urban Life and Death by Brenna Hassett
Time's a Thief by B.G. Firmani
Film Stars Don't Die in Liverpool: A True Love Story by Peter Turner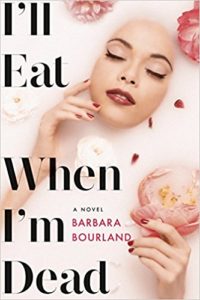 I'll Eat When I'm Dead by Barbara Bourland
Firstborn by Tosca Lee
Always and Forever, Lara Jean by Jenny Han
All Over the Place: Adventures in Travel, True Love, and Petty Theft by Geraldine DeRuiter
Borrowed Souls: A Soul Charmer Novel by Chelsea Mueller
Dreamfall by Amy Plum
Bubble by Stewart Foster
Radical Hope: Letters of Love and Dissent in Dangerous Times edited by Carolina De Robertis
Notes of a Crocodile by Qiu Miaojin (Author), Bonnie Huie  (Translator)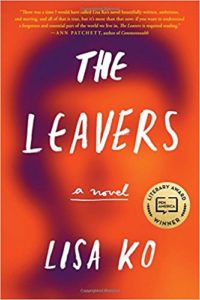 The Leavers by Lisa Ko
The Trials of Apollo Book Two The Dark Prophecy by Rick Riordan
And We're Off by Dana Schwartz
Milena, or The Most Beautiful Femur in the World by Jorge Zepeda Patterson (Author), Adrian Nathan West (Translator)
You're the Only One I Can Tell: Inside the Language of Women's Friendships by Deborah Tannen
Mid-Life Ex-Wife: A Diary of Divorce, Online Dating, and Second Chances by Stella Grey
The Scattering (Outliers) by Kimberly McCreight
My Life with Bob: Flawed Heroine Keeps Book of Books, Plot Ensues by Pamela Paul
Astrophysics for People in a Hurry by Neil deGrasse Tyson
The Radium Girls: The Dark Story of America's Shining Women by Kate Moore
The Gathering Edge by Sharon Lee and Steve Miller
The Baker's Secret by Stephen P. Kiernan
The Weekend Effect: The Life-Changing Benefits of Taking Time Off and Challenging the Cult of Overwork by Katrina Onstad
Behave: The Biology of Humans at Our Best and Worst by Robert M. Sapolsky
Trajectory: Stories by Richard Russo
Soupy Leaves Home by Cecil Castellucci  (Author), Jose Pimienta (Illustrator)
The H-Spot: The Feminist Pursuit of Happiness by Jill Filipovic
The End of Eddy by Édouard Louis (Author), Michael Lucey (Translator)
City of Miracles (The Divine Cities) by Robert Jackson Bennett
Salt Houses by Hala Alyan
Into the Water by Paula Hawkins
Inheritance from Mother by Minae Mizumura
He Calls Me By Lightning: The Life of Caliph Washington and the forgotten Saga of Jim Crow, Southern Justice, and the Death Penalty by S Jonathan Bass
No One Can Pronounce My Name by Rakesh Satyal
'Round Midnight by Laura McBride
Beyond the High Blue Air: A Memoir by Lu Spinney
Confessions of a Domestic Failure by Bunmi Laditan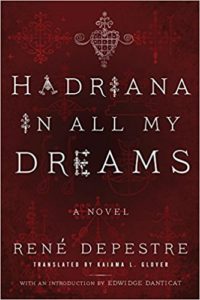 Hadriana in All My Dreams by René Depestre (Author), Kaiama L. Glover (Translator)
The Nix by Nathan Hill (paperback)
The Assistants by Camille Perri (paperback)
Why We Came to the City by Kristopher Jansma (paperback)
The Sport of Kings by C.E. Morgan (paperback)
Homegoing by Yaa Gyasi (paperback)
The Gene: An Intimate History by Siddhartha Mukherjee (paperback)
That's it for me today – time to get back to reading! If you want to learn more about books new and old (and see lots of pictures of my cats, Millay and Steinbeck), or tell me about books you're reading, or books you think I should read (I HEART RECOMMENDATIONS!), you can find me on Twitter at MissLiberty, on Instagram at FranzenComesAlive, or Litsy under 'Liberty'!
Stay rad,
Liberty