Happy Friday, from the other end of a long series of tubes!
Before we dive into all the genre-specific goodness, I am delighted to announce that we've got a new subscription program called Book Riot Insiders! You can track new releases, listen to our dedicated Read Harder podcast, get a look at behind-the-scenes ops, and more, starting at $3/month. Check out the Insiders site for full details and to sign up!
Calling all Expanse fans: if you're craving books with female characters like Naomi, Chrisjen, and Bobbie, we've got a reading list for you.
I've had this bookmarked forever and only finally just got to it: what is a utopia and how do we write about it? Ada Palmer, Malka Older, and Robert Charles Wilson had a very interesting conversation about this on Tor. It dovetails nicely with my musings post-Feminist Utopia Project, in case anyone is looking for another book (not strictly speculative) to add to their stack.
Soylent Green is (hopefully not) people! This piece on foods of the future is better than cannibalism, but I'm not sure how much better in certain cases. I hear you on the protein content of bugs, for example, but getting over the squick factor is gonna take some doing. (My theory is that Fear Factor ruined bugs for Americans of a certain age, even if you add ice cream.) However, sign me up for 3D printed food STAT!
More short stories for those pressed for time! This list of magical short story collections has two personal favorites on it — Kelly Link and Helen Oyeyemi, bestill my reader heart. These will certainly liven up your commute (and possibly make you miss a stop or two, fair warning).
Your Friday whimsy: I laughed so hard at Bad Lip Reading: Star Wars that I cried.
Readers, I fell hard for the below books, and I think you will too.
Spare & Found Parts, Sarah Maria Griffin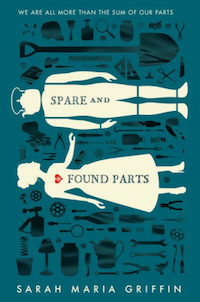 I didn't know I wanted a YA revamp of Frankenstein until I read this book, which is fantastic. Nell Crane is young, awkward, and bad at people — not excluding her more bouyant best friend, Ruby, or the boy she cannot shake, Oliver. What she's good at? Machines. She's learned at the side of her father, an acclaimed inventor, and she's plotting a project that will take her out of his shadow and earn her a reputation in her own right: a robot companion.
The problem with this plan is that Nell lives in a future in which machines are suspect, and computer technology has been outlawed. A plague in the past has decimated the population, society is still rebuilding, and coding is strictly taboo. In her search to realize her vision and build herself a friend who might just understand her, Nell finds herself in places in her community she had no idea existed.
Nell's loneliness and personal struggles are heartbreaking, and there's a reveal about her family history that actually made me gasp out loud. Griffin feeds in just enough whimsy, humor, and world-building to keep the story moving while still allowing for the story's solid emotional weight. I devoured this book in a day, and cannot recommend enough that you take it to the park with you on the next sunny day.
Mama Day by Gloria Naylor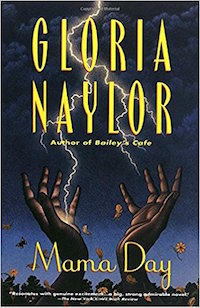 I have been meaning to pick up Mama Day since Nisi Shawl recommended it in her Book Riot Live interview. The day I got it from the library was a good day; the day I finished it was even better. If you like magical realism; if you like generational stories; if you like Southern fiction; if you like stories in which the setting is a major character; if you like amazing writing — then grab a copy and buckle up.
Narrated in three distinct voices — two second-person, one third person, and somehow this works beautifully?! —  the novel follows Ophelia "Cocoa" Day, who has moved away from her hometown of Willow Springs to make it in New York City. She's on the look-out for a job and a date, and meets engineer George Andrews during an interview. She doesn't ultimately end up working for him; instead, she marries him and brings him home to Willow Springs to meet her great-aunt Miranda (the titular Mama Day) and grandmother Abigail. And then, everything goes off the rails. And no, I won't be more specific, because spoilers.
It's a simple plot on the surface, but to this girl-meets-boy set-up Gloria Naylor adds the history of the South and Emancipation, folk remedies and old powers, family secrets, touches of The Tempest, and a deep understanding of the twisted places love can take us. The second to last chapter of this book wrecked me — it's a five-Kleenex read for sure. On top of all that Naylor has a gorgeously vivid writing style and is a master of structure. This book has earned a spot on my favorites shelf.
---
This newsletter is sponsored by Elves, written by Jean-Luc Istin and illustrated by Kyko Duarte.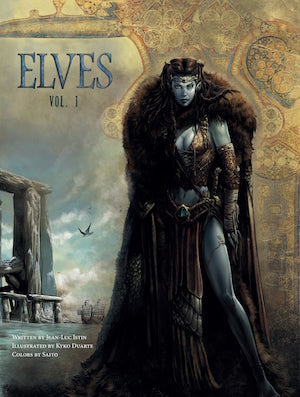 Volume One of the critically-acclaimed and original dark fantasy saga Elves comes to US audiences for the first time this May.
The Blue Elves in a small port town have all been massacred. Lanawyn, a Blue Elf, and Turin, her human ally, set out to discover who is responsible. The trail they uncover together leads back to a warlike clan of humans who hate Elves.
Meanwhile, the Sylvan Elves have hidden themselves away from the world, jealously preserving their independence. Eysine, the City-State of the East, has always observed respect for the ancient pact between Elf and Man. But when a powerful army of Orks besiege the kingdom, Eysine must remind the Elves of the treaty that linked their two peoples.