Hello fellow mystery fans! This newsletter will go great with popcorn–or whatever snacks you enjoy while watching TV–as I've found two great adaptations currently streaming on Netflix. Don't worry I'll be back next week (yay!) with a bunch of mystery/thriller book recs and news–but this week it's all about adaptations.
---
This week's newsletter is sponsored by I Found You by Lisa Jewell.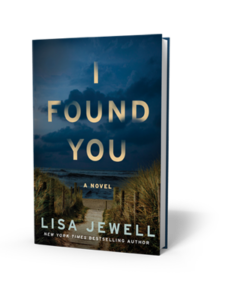 Two decades of secrets, a missing husband, and a man with no memory are at the heart of this brilliant new novel, filled with the "beautiful writing, believable characters, pacey narrative, and dark secrets" (Daily Mail, London) that make Lisa Jewell so beloved by audiences on both sides of the Atlantic.

"Jewell is a wonderful storyteller. Her characters are believable, her writing is strong and poetic, and her narrative is infused with just enough intrigue to keep the pages turning. Readers of Liane Moriarty, Paula Hawkins, and Ruth Ware will love." —Library Journal (starred review)
---
Oh, before I get started and forget: If you're a Book Riot fan who wants more of us (!) there's a new subscription program called Insiders! Starting at $3 a month different levels get you different access like a dedicated podcast/newsletter, store deals, new book release index (which I am obsessed with!)…AND there's an Insiders-only Slack forum where we all chat that has a mystery channel!
Veronica Mars' zombie cousin!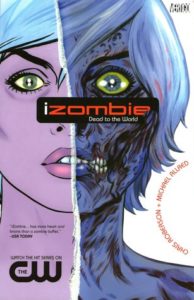 iZombie: This TV show is loosely adapted from the same titled comic series by Chris Roberson, Laura Allred, Mike Allred, Todd Klein and I'm actually glad it was only loosely adapted because it allowed me to enjoy both, without either spoiling the other's plot. Basically the comic is a zombie gravedigger, Gwen, who eats dead people's brains to stay alive but has the side effect of now getting the deceased person's thoughts/memories. In the comic she has a ghost and werewolf friend and it's more urban fantasy with mysteries.
Enter Diane Ruggiero and Rob Thomas who took just the concept of a zombie woman who eats dead people's brains and temporarily inherits their "brain" from the comic and turned it into a procedural TV show. Gwen is now Liv Moore (get it?!) and rather than a gravedigger she's a medical student–er, was until she woke up a zombie. The whole zombie thing is part of the show's mystery but every episode is also a case that Liv is helping the police department with. She kind of lied and pretended to be psychic on account of she probably shouldn't tell them she's eating the case's victim's brain and getting their memories to help. Did I mention she works at the morgue? Easy brain access! She also takes on a bit of the deceased's personality/quirks which makes for some funny and entertaining TV. This is one of my fun shows, with a lot of heart (and brains!), that has great characters (especially looking at you Ravi!), and the added bonus of special guests from Veronica Mars popping up here and there. You can binge the 1st two seasons on Netflix and the 3rd is currently playing on the CW.
Welcome to Havana/ Bienvenidos a Havana
Four Seasons in Havana: A Netflix original four-part series adapted from Leonardo Padura's hard-boiled detective series. Set in the 90s each part is about an hour and a half in a different season of the year following a case assigned to Mario Conde: a depressed detective who's always grumpy about any case assigned to him–he'd much rather be a writer–and seems to be perpetually having an existential crisis. The show, filmed in Havana, does a great job of giving a look into life in communist Cuba and bringing Padura's noir series to life. While it was difficult at times to see this once beautiful island in its current destroyed state it was refreshing to see an honest portrayal. I also really liked the characters in his circle of friends, their friendships, and their shit talking gatherings.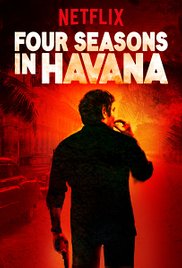 The Winds of Lent: A young teacher is found murdered and Conde quickly finds himself placing a friend in danger while tracking a drug dealer and also having a hard time focusing since he's fallen head over heels for a woman.
Past Perfect: Conde is assigned a case of a missing businessman which quickly gets complicated because it's Conde and of course the businessman's wife is an old obsession of his.
Masks: Conde, and his homophobic/transphobic attitude/language, doesn't want–but has no choice–in being assigned the case of a murdered gay man. The man is a diplomat's son, complicating the case further, and sending Conde into Cuba's gay communities–and into the arms of a new woman.
Autumn Landscapes: Conde finds himself on a treasure hunt of sorts after a murdered man is found in the sea–but his time is limited as there's a hurricane on its way to the island.
I really enjoyed this series and hope Netflix continues to adapt mystery/thrillers from around the world as limited series–Dear Netflix, More of this, please!
Until next time, keep investigating! And in the meantime come talk books with me on Twitter and Litsy— you can find me under Jamie Canaves.