The Handmaid's Tale is Feminist, Obviously
At the Tribeca Film Festival, star of Hulu's Handmaid's Tale adaptation Elisabeth Moss said the show was "not a feminist story, it's a human story, because women's rights are human rights." The comment irked think piece writers everywhere, as the book and adaptation are very obviously about feminism and reproductive rights. She's since walked backed her comments, saying "I wanted to say ― and I'll just say it right here, right now ― OBVIOUSLY, all caps, it is a feminist work. It is a feminist show," and Margaret Atwood herself has weighed in as well.
You're Not a Bad Book Person If You Can't Get Into Book Clubs
I love my book club, probably because there isn't a book industry person in it at all and it's refreshing to talk about books with people who have no stake in any aspect of the conversation outside of their love for reading, but book clubs aren't for everyone. If you've found yourself trying and failing to start/join/successfully attend/at all care about the book club scene, you are not alone! Go forth and read in solitary splendor.
Good News Corner
PHRYNE FISHER IS GETTING A MOVIE TRILOGY, REPEAT, PHRYNE FISHER IS GETTING A MOVIE TRILOGY. The excellent TV show Miss Fisher's Murder Mysteries (based on the Kerry Greenwood books) follow the crime-solving shenanigans of Phryne, a wealthy woman in 1920s Australia who carries a gold-plated gun and refuses to get married. I will watch all these movies until the end of time, forever and ever amen.
Also, Tahereh Mafi is returning to the Shatter Me universe with three new books in the series! Inspired by a recent re-read of the books in preparation for an adaptation, Mafi realized she has more places to take the characters. A+ will read.
---
This week's newsletter is sponsored by TarcherPerigee, publisher of Adult-ish by Cristina Vanko and Adulthood for Beginners by Andy Boyle.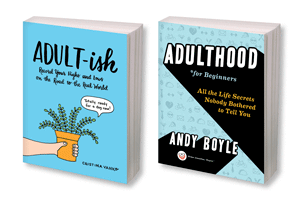 Ready for #RealLife?
Whether you're a newly minted "adult" navigating your first job and paying rent for the first time—or are just about to graduate and join the "sophisticates" in the real world, Adult-ish and Adulthood for Beginners provide the tools and advice for Millennials seeking to ease the transition from dorm room to cubicle life.
Adult-ish, an illustrated, interactive journal encouraging self-reflection, is a celebration (and keepsake) of your first years as an "adult."
Adulthood for Beginners is the hilarious—yet useful—guide for avoiding years of awkwardness, mistakes, bad dates and more that older Millennials and Gen Xers wish they'd had when they were younger.