Today's Riot Rundown is sponsored by The Blue Moon Narthex by N.J. Donner.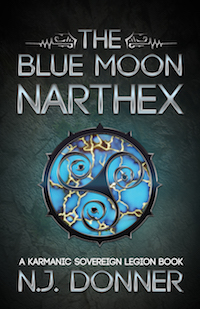 Since the beginning of time, Karmanic matter has worked silently, keeping good and evil in balance, until the world's growing greed made it harder for Karma to keep up. As World War I rages, the Karmanic Sovereign Legion works to help Karma.
A suspicious train accident and an odd stone-shaped object that belonged to his father thrust Cole and two schoolmates into the battle against dark forces. With only the powerful stone, a letter, and grandfatherly Norm, the trio must unravel clues and tap into unknown strengths to discover who Cole's father really was and keep those they love safe.