Hey YA fans!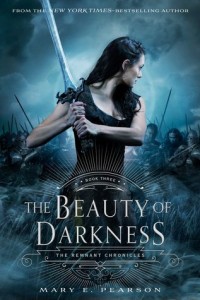 This week's newsletter is sponsored by Mary E. Pearson's The Beauty of Darkness. 
Lia and Rafe have escaped Venda, and the path before them is winding and dangerous–what will happen now? This third and final book in the Remnant Chronicles is not to be missed. New York Times-bestselling author Mary  E. Pearson's combination of intrigue, suspense, romance, and action makes  this a riveting page-turner that you won't be able to put down!
This newsletter won't have a huge amount of new things to talk about — just a short round-up of newsy items at the end — in part because this will be a longgggg read. Now that I've thoroughly confused you, let me explain.
In early July, as well as in the last newsletter, I asked you to share your favorite 2016 YA reads so far.
And you responded.
It wasn't a small response. We're talking roughly 1,700 of you — about 10% — of the subscribers to this newsletter chimed in with your favorite reads. Because there were so many responses, I whittled down the favorite reads by these criteria:
1. The book was published between January 1, 2016 and August 8, 2016. I kept off books that are coming that people have read advanced copies of or are anticipating (I loved reading so many responses along the lines of "I haven't read x yet but I know I'm going to love it").
2. The book was published as a YA book. I didn't worry about fiction or non-fiction; it just needed to be a book explicitly marketed as YA. A lot of stuff skirts both the middle grade and the adult lines and YA readers read up and down, but just to keep numbers easier, I made the executive calls.
3. The books were published in the US. Not that I don't appreciate the responses for books that were published outside the states — again, awesome to see those! — but they're likely hard for readers here to check out.
4. I consolidated multiple responses for the same titles. In the list, you'll see some titles have a * beside them. That means 15 or more readers listed it as their favorite.
5. For those responses with multiple answers, I went with the first title or the first title that was published this year in the timeframe.
6. Errors are mine. Because 1,700 responses!
That brought a grand total of 131 unique titles among your favorite YA reads this year.
This is such a fun list, rich with YA of all shapes and sizes. There are series books, there are stand alone titles, there are books which got a lot of buzz, as well as quieter reads. There's both fiction and non-fiction represented here. It was neat to see the responses and be pleasantly surprised a book showed up that wasn't one I'd expected to see. It's also nice to see titles that published early on in the year — the ones that could be easy to forget — make an appearance.
Grab your TBRs. Here are your 131 favorite YA reads from January – August 8, 2016, in alphabetical order. I'm linking the titles so you can click through to read descriptions. Pasting them here would kill everyone's bandwidth (& apologies if this comes out as one longgggg list — if that doesn't work for you, click here for the readable and clickable spreadsheet).
A huge, huge thank you to everyone who submitted a response. I know I asked some additional questions but after playing with these answers, I figured this would be enough to bust even the biggest reader's to-read lists.
A handful of interesting/news-worthy links worth sharing:
* Though this piece is about books for kids under the YA set, it's really worthwhile reading since the same observations about female protagonists made there can be said about YA.
* A wonderfully in-depth look at the evolution of LGBTQ+ YA stories.
* The Thousandth Floor, which is publishing later this month, has been picked up for a TV series. Not surprising at all, given it's an Alloy book — they're the same company behind things like Pretty Little Liars and Gossip Girl.
* The adaptation of the "Chaos Walking" series by Patrick Ness has scored a big name — Daisy Ridley.
* A sweet little reminder that reading YA is totally okay for adults.
And a few links from Book Riot: 
* I was blown away by the tremendous (!) response to this piece about why YA needs more quitters.
* A round-up of queer YA set at summer camp.
Thanks for hanging out with us for another collection of YA news and fun. "What's Up in YA?" will hit your inboxes again in two weeks.
In the meantime, perhaps a book or two mentioned here will suck you in.